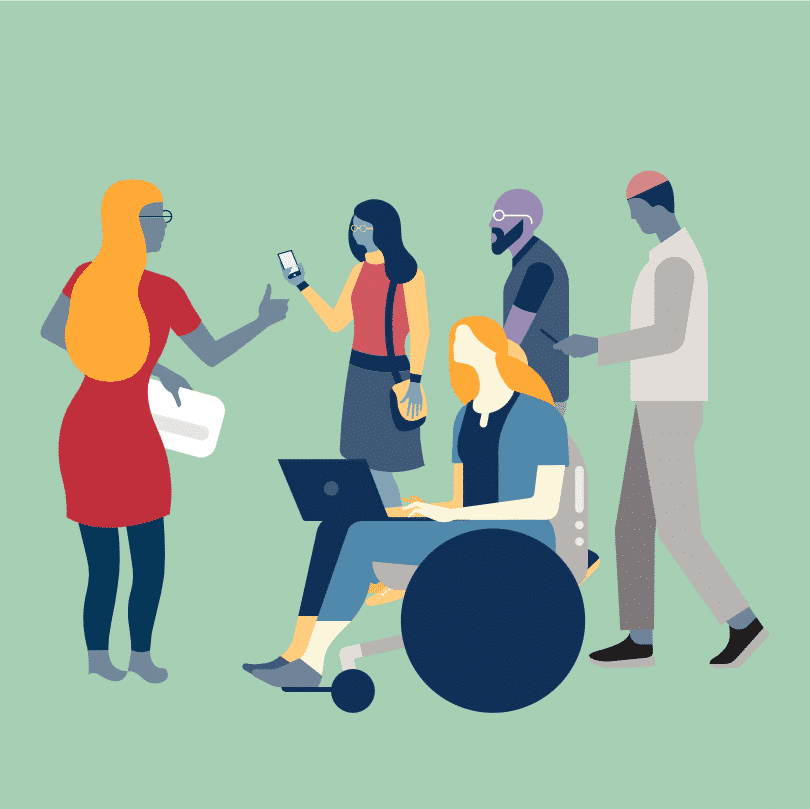 Employee advocacy is one of the most effective ways to boost your public image and employee engagement.
Why? Because your employees are already posting about you. Half of all employees share content from or about their employer on social media, and 33% of all employees do so without any prompting.
Sounds great. But without a content strategy to guide them, you have no idea what they're posting or the ROI of those efforts. With a formal employee advocacy program, you can expand your organic reach by 200% and increase profitability by 23%, among many other benefits.
Keep reading to learn how to build an employee advocacy program that your team will love, and that will contribute to your business results.
Bonus: Download a free employee advocacy toolkit that shows you how to plan, launch, and grow a successful employee advocacy program for your organization.
What is employee advocacy?
Employee advocacy is the promotion of an organization by its workforce. Employee advocacy can take many forms, both online and off. But the most common and effective channel is social media advocacy.
Social media advocacy comes down to employees sharing your company's content on their personal social media accounts. Everything from job postings (and other resources for job seekers), blog articles, and industry resources, to new product launches.
However, employee advocacy can also be original content that offers a glimpse into your company culture. Maybe it's an Instagram post showing the free lunch spread you brought in last Friday, a special event, or a moment from an average workday.
All these activities can help boost your brand reputation with both customers and potential new recruits.
Why is employee advocacy important?
A recent study found that employee advocacy benefits companies in three key ways:
It positively impacts sales due to increased brand awareness and favorable perceptions ("brand sentiment").
It improves staff recruitment, retention, and engagement.
It aids in PR crises and issues management.
Employee advocacy stats
Your employees are already on social media. Is Joe in Accounting's mom your target audience? Probably not. But it's likely Joe has many followers who are, or who can at least help spread your message.
Bumping your organic reach is always nice, but don't neglect the offline impact of employee advocacy. It's difficult to measure specifics, but a study proved a direct connection between employees' positive social media posts and increased offline word of mouth.
Why does employee advocacy work so well? It's all about trust.
Trust is more influential than love when it comes to choosing to buy from a brand or not. 88% of people value brand trust more than loving its products or services (81%).
And, crucially, trust is at an all-time low in 2022. Almost two thirds of people think societal leaders, including CEOs and corporations, are purposefully attempting to mislead people.
Source: Edelman
But you know who people do trust? Average people like themselves. 93% of people trust brand information shared by their friends and family, while only a fraction of those same people trust general social media posts (51%) or advertising (38%).
Hootsuite's own research shows employee advocacy on social networks is directly related to higher brand health metrics, including positive sentiment, value, and share of voice—especially among mature organizations.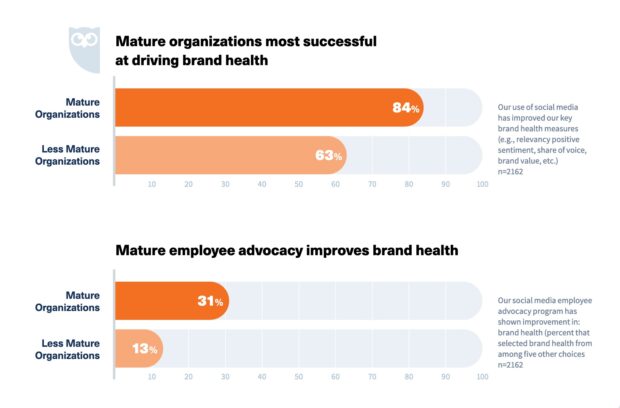 Source: Hootsuite and Altimeter Research, Social Transformation Report
Besides an average 1.4X gain in brand health, employee advocacy also comes with additional benefits to both your organization and employees: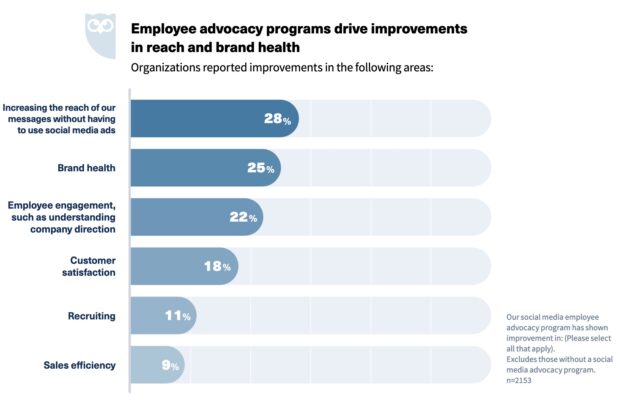 Source: Hootsuite and Altimeter Research, Social Transformation Report
For sales teams, a successful employee advocacy program can increase efficiency. It also provides a great basis for social selling.
Employees can also enhance their credibility and position themselves as industry experts. Nearly 86% of employees involved in a formal advocacy program say it had a positive effect on their careers.
Wondering how a brand advocacy program could impact your business? We created a calculator to measure how much your organic reach could grow.
Here's an example for a company with 500 team members. Test it out with your numbers.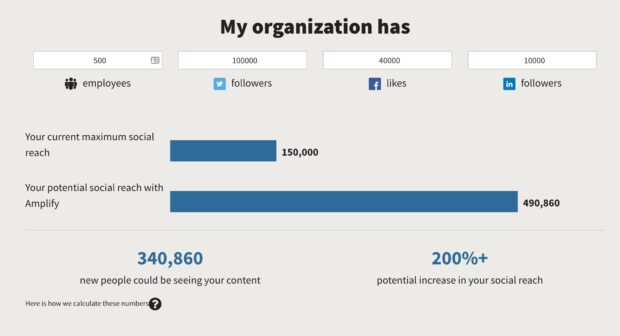 Source: Hootsuite employee advocacy reach calculator
Step 1: Create a positive and engaged workplace culture
It's not surprising that a study found happy employees are much more likely to become employee advocates.
The two key motivators for an employee to want to become an advocate are:
A positive relationship with the organization
Strategic internal communication
It's a win-win situation: Happy employees want to share about their company, and those who share about their company—and get rewarded for it—become even happier employees. (We'll cover reward ideas in the last step!)
So how do you create an engaged workplace culture?
Research from Gallup found that up to 70% of an employee's engagement level is determined by their direct manager. You know the old phrase, "People don't leave jobs, they leave managers?" It's true.
The main factors influencing engagement are:
A sense of purpose (in their role and the company in general)
Professional development opportunities
A caring manager
Reviews highlighting strengths versus focusing on weaknesses
Ongoing feedback, not only at an annual review
Entire books exist about creating great workplace cultures, and in much more detail than we could hope to capture in a few paragraphs here. But at the very least, focus on supporting your executive and middle managers' leadership development.
There's a reason Google teaches all their corporate leaders communication lessons from Silicon Valley's famous "Trillion Dollar Coach," Bill Campbell: It works.
Of course, creating a great place to work has many other benefits besides encouraging employee advocacy. Research points to engaged employees resulting in higher profitability (+23%), customer loyalty (+10%), and productivity (+18%).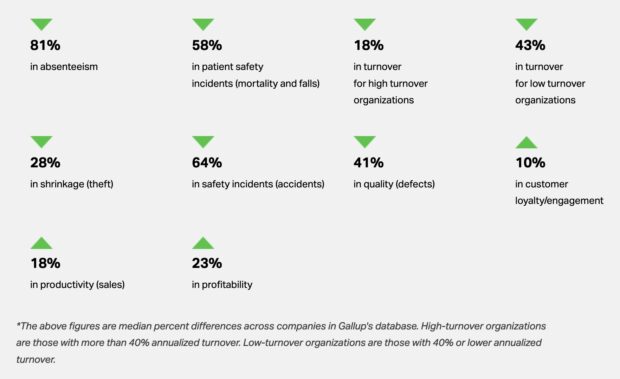 Source: Gallup
Step 2: Set goals and KPIs for your employee advocacy program
Going back to our previous step, one of the key motivators for employees to share about their company is internal communication. Some employees may already be sharing, but many aren't sure what exactly to share, or why it matters to the company.
Setting goals and communicating them to your employees eliminates ambiguity and gives you measurable social media metrics to track progress.
Example goals could be acquiring more leads, recruiting talent, brand awareness, or increasing share of voice.
Some key KPIs to track are:
Top contributors: Which individuals or teams are sharing the most? Which advocates are generating the most engagement?
Organic reach: How many people are seeing the content shared through your employee advocates?
Engagement: Are people clicking links, leaving comments, and re-sharing content from your advocates? What is the engagement per network?
Traffic: How much traffic did the content shared by employee advocates drive to your website?
Brand sentiment: How has your advocacy campaign impacted your overall brand sentiment on social media?
Also, be sure to track mentions of your company hashtag if you create one. Giving employees a hashtag to mention can help with recruitment and brand sentiment goals by showing off your company culture. It can also help employees feel more connected to the company and each other.
While not every company is as giant as Starbucks, their approach to managing employee advocacy on social media is excellent. Besides setting up dedicated employee advocacy accounts, like @starbuckspartners (Starbucks employees are called partners), they created a company hashtag #ToBeAPartner.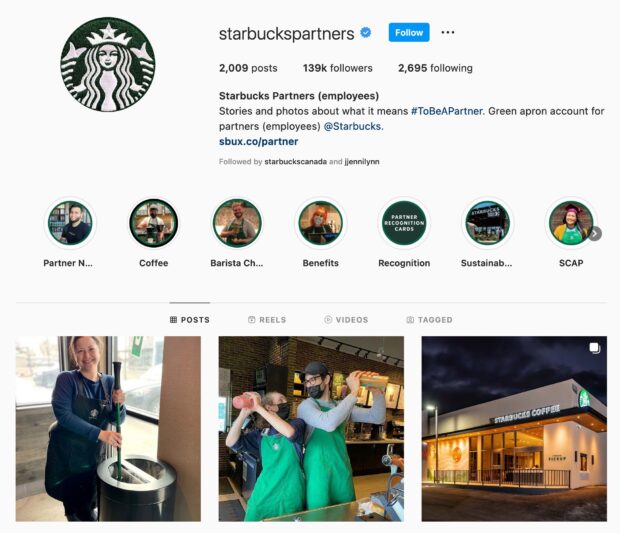 Source: Instagram
Besides the chance to be featured on these accounts, the account and hashtag give Starbucks employees a space to connect and the company a way to show off their culture and innovation around the world.
Step 3: Identify employee advocacy leaders
It's tempting to pick your executive team as leaders of your employee advocacy program. Yes, it's important for them to be involved so they can model program adoption to the rest of your organization and help boost sign-ups.
But, they're usually not the real leaders of your social media advocacy program. Instead of focusing on title or rank, focus on who naturally uses social media:
Who is developing a personal brand using social media?
Who naturally shares industry content?
Who is the public face of your company, either in their role (speaking engagements, PR, etc.) or number of social media connections?
Who is enthusiastic about your industry and the company?
Empower these people to help build your employee advocacy program. Engage them in defining and communicating campaigns, setting goals, and creating incentives. They will help you learn what kinds of tools and resources employees are most likely to use and share.
Then, work with your advocacy leaders to identify potential beta testers before launching your program company-wide. They can help guide your employee advocacy strategy and provide honest feedback.
You may see an initial flurry of social shares when you launch your employee advocacy program. But without effective internal leadership, this enthusiasm will fizzle out over time. Employee advocacy leaders help make sure advocacy is an ongoing focus.
Step 4: ​​Establish employee social media guidelines
Employees need to know not just what the message is, but also the best way to communicate it. What kind of language should they use? How often should they post? How should they respond to comments?
To address this, you need two documents:
Social media content policy: A "do's and don'ts" of what employees should share, topics to avoid (e.g., politics, etc.), answers they can provide to common questions (FAQ), and more.
Brand style guidelines: This is the visual guide, including how to use the company logo, unique terms or spelling your company uses (e.g., it's Hootsuite, not HootSuite!), hashtags to include, and more.
Guidelines, especially content ones, aren't meant to police your employees. You don't want to create such a long list of "don'ts" that people are too scared to share anything at all, in fear of losing their job.
With the right guidelines clearly stating what's off-limits while allowing for authentic expression, you eliminate that fear (and avoid a potential PR nightmare or a wrongful dismissal lawsuit).
Clear guidelines also help protect your company's reputation and avoid security risks. Some guidelines are common sense—for instance, avoiding vulgar or disrespectful language or sharing confidential information. Other guidelines may need input from the legal department.
Make sure the guidelines are easy to understand and follow. It shouldn't be a boring, 50-page, all-text document. Include visual examples and recommendations on what, where, and how to share. Also include contact information for your advocacy program's leader, so employees know who to ask for additional guidance if needed.
We've got a free template for you to create an employee social media policy, or check out examples from other companies. Starbucks posts theirs, a clear and concise 2-pager, publicly on their website.
For examples specific to your industry, try searching for "employee social media policy" + (a company name or your industry):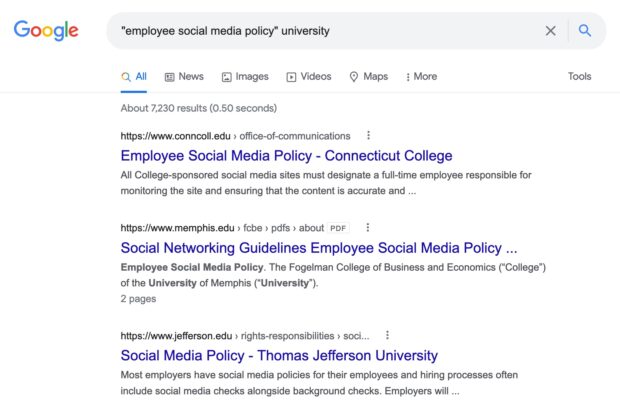 Step 5: Get employees involved in your strategy
Once you have goals and guidelines in place, it's time to reach out to employees. Let them know about your advocacy program and tools.
Of course, you should never force employees to share brand content on their personal channels. This isn't a great way to foster trust. (And remember that trust is a critical component for employees to become advocates.)
Instead, involve your employees in content planning. Share your current social media strategy and ask them which types of content would show off the company culture, or what would fit in with the goals of your employee advocacy program.
We'll cover more about content below, but use the feedback your teams give you to guide your overall strategy. For example, Hootsuite's employee advocacy program's content categories are: internal announcements, product announcements, thought leadership, and recruitment.
Step 6: Create and share valuable resources for employees to share
The real key to getting your employees to share? Provide them the content they need to either make their job easier, or help position them as an industry expert.
Research from LinkedIn shows users who share advocacy content receive 600% more profile views and grow their networks three times faster.
Ask your employees what questions customers are asking them. If 10% of new leads are asking a seemingly boring accounting question, well, so be it: Time to create a seemingly boring, but effective, piece of content about accounting.
Mega snore, but if it's what your customers want, it's worth it.
Ask if employees want specific resources to use in their daily jobs. A one-pager getting started guide? A one minute video walkthrough? Short, fifteen-second Instagram Reels teaching a new product feature or hack every week?
These ideas go beyond social media content, but you get the idea. Your employees on the front lines know what customers want. Create content serving that and your employees will be happy to share it.
Create and regularly update a content library of these types of always-relevant resources so employees can find them easily.
Additionally, don't forget about the power of a personal message. Pre-approved content is great for quick shares but give your employees the freedom to write their own captions for image or video posts, too (as long as they follow the guidelines).
For example, 32% of all Hootsuite employee advocates shared about our "Wellness Week," where our entire company took a week off to recharge. The result? 440,000 organic impressions from brand advocacy in a single week.
Ask employees to share their favorite feature about a new product or how a recent company policy positively impacted them. Creating their own unique content will resonate more with their followers. That's important because those followers know your employee more than they know your brand (for now).
Once again, it comes down to having a culture great enough to make your employees want to share. For example, Cisco employees participated in a virtual talent show describing their unique talent. The personal captions and company branded swag speak more about the human side of the company than a pre-approved mass message ever could.
Step 7: Reward employees for their advocacy
Since you're asking something from your employees, it's only fair to offer something in return.
Educate employees on the benefits for them, like increasing their visibility and credibility as a subject matter expert. But no one likes being paid only in exposure, right?
Tangible incentives like gift cards or prizes can help employees feel like they have a stake in the program.
A simple way to reward advocacy is to make it into a game or contest. For example, create a hashtag to promote a specific employee advocacy campaign. Then create a leaderboard to show who's getting the most impressions or engagement for the hashtag. Gift a prize to the winner, or for a more fair chance for everyone, put everyone who shared the campaign into a draw.
Employee advocacy best practices
Only share engaging content
Duh.
Make it worth your employees' while
Offer content that helps your employees build their online image as industry experts. And make your entire employee advocacy program fun to participate in.
Find what motivates your team and do it. Prizes? Contests? Random gift cards just to say thanks? After all, your employees are giving you tons of free organic reach. The least you could do is buy 'em a coffee card once in a blue moon, eh?
Foster a great company culture
Engaging in employee advocacy—and with their role and your company in general—comes from naturally wanting to share and being proud of where they work.
Give them good reasons to be proud.
Amplify — your best employee advocacy platform choice
The hardest part of employee advocacy is often the execution. Where will they find content to share? Where can they review your social media and brand guideline documents? How will they find out about new content?
You can go as basic as having everyone sign up for the company newsletter to find content to share on their own, or… Use a done-for-you employee advocacy platform to distribute approved content, easily share to their profiles with one click, and seamlessly measure the ROI and results.
Hootsuite Amplify is your all-in-one solution for setting up an employee advocacy program people want to be part of. Check out how it works in under two minutes:
If you already use Hootsuite for social media planning, it's as easy as adding the Amplify app to your account (for Business and Enterprise customers). Boom, done!
Having a central hub that employees can visit to stay informed and easily share pre-approved content from pays off. At Hootsuite, we have a 94% adoption rate for our employee advocacy program and a 64% share rate. Our program earns over 4.1 million organic impressions per quarter!
Plus, Amplify analytics reports allow you to track program growth and content performance metrics—and measure its ROI along with all your other social media metrics in your Hootsuite account.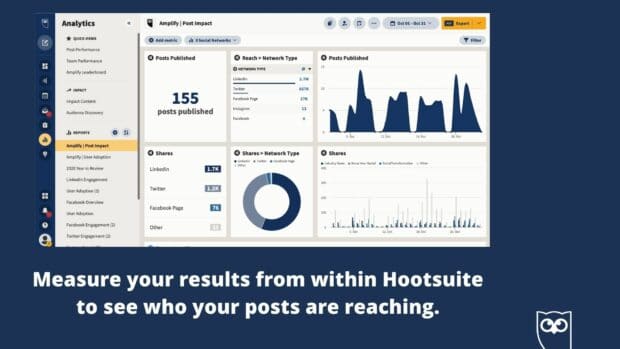 Tap into the power of employee advocacy with Hootsuite Amplify. Increase reach, keep employees engaged, and measure results—safely and securely. Learn how Amplify can help grow your organization today.
Request a Demo
Hootsuite Amplify makes it easy for your employees to safely share your content with their followers—boosting your reach on social media. Book a personalized, no-pressure demo to see it in action.
Friendly communicator. Music maven. Explorer. Pop culture trailblazer. Social media practitioner.