APPLE STOCK
What Is Apple's Response to Microsoft's ChatGPT?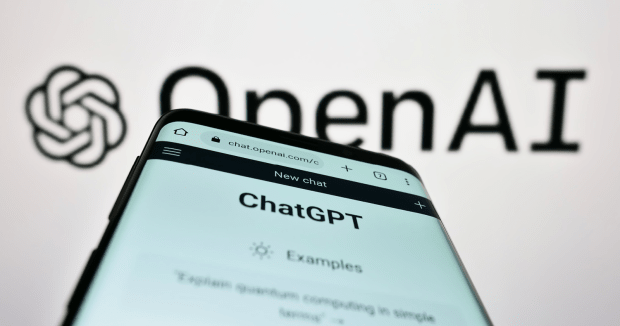 The "AI arms race" is on, as ChatGPT puts Microsoft and Alphabet at the center of a battle for dominance in web search. Will Apple respond and, if so, how?
Microsoft has launched an assault on Alphabet's dominance in online search with its investment in OpenAI's ChatGPT. Google's parent company is fighting back.
Seemingly removed from this artificial intelligence battle is Apple. Should Apple stock (AAPL) – Get Free Reportinvestors expect developments on the AI ​​front coming from Cupertino?
We discuss why Apple, a dominant force in the tech space, seems to be far from the spotlight in this case.
(Read more from the Apple Maven:Apple vs. Microsoft vs. Amazon: Which Tech Stock Is The Best Value?)
MSFT vs. GOOG: The AI ​​Arms Race Is On
This week in tech has been all about artificial intelligence.
On Tuesday, Microsoft (MSFT) – Get Free Reportinvited analysts to share their ideas around AI. The Redmond-based company is about to integrate ChatGPT, an artificial intelligence-based chatbot whose developer received a $10 billion investment from Microsoft, into the search engine Bing and web browser Edge.
Generative AI refers to a type of artificial intelligence that creates new content or data, rather than just recognizing and categorizing existing data. It does this by learning patterns and relationships in existing data and using that knowledge to generate new, similar examples.
For instance, a generative AI model could be trained on a dataset of images and then generate new, unique images that resemble the ones it was trained on.
Fun fact: the two paragraphs above were written by OpenAI's ChatGPT in response to my question: "can you explain in simple terms what Generative AI is?"
Wedbush analyst Dan Ives shared his thoughts on the recent developments via a research note sent to the Apple Maven:
"Bing, which will now be powered by a new next-generation language model GPT3.5, will provide better search results [and] answer complex user questions. […] We believe that this strategic investment […] will massively boost the cloud stalwart to a robust position in the battle for AI demand as Microsoft's cards are now on the table and the AI ​​strategy picking up significant traction."
The move is a bold attempt by CEO Satya Nadella & Co. at stealing a chunk of Alphabet's (GOOG) – Get Free Reportcore advertising business, which generated $61 billion in revenues in 2022 across search, YouTube, and Google Network.
Alphabet, of course, is not willing to sit and watch Microsoft do its thing. On Wednesday, February 8, the Mountain View-based company announced several initiatives centered around AI, including the MUM-powered multisearch feature and LaMBDA-powered Bard AI.
What's at stake? Alphabet is by far the leader in search and web browsing, as depicted below. Microsoft's challenge probably explains why its stock has risen 4% so far this week ($80 billion in market cap gain), while GOOG stock has sunk 6% ($80 billion in market cap loss).

What Will Apple Do Next?
Following the back-and-forth between Microsoft and Alphabet, not much could be heard from Apple about AI. This does not mean, however, that Tim Cook and his team are asleep at the wheel, as the Cupertino company is set to host an employee-only event about the subject.
Apple is clearly knee-deep in the development of AI applications for the products and services that it markets. Despite the company having announced a hiring freeze recently, Apple currently has 342 jobs open in AI-related fields like deep learning and natural language processing.
There is a difference, however, in how Apple is likely to use artificial intelligence technology compared to the strategies deployed by Microsoft and Alphabet, which so far have centered around search and browsing (and, to a large extent, cloud services).
The Cupertino company will probably continue to find AI applications for its own products, software, and services. This is already evident in features like facial recognition, introduced with the iPhone X in 2017, and improvements in voice and speech recognition (ie, Siri).
The next steps will likely come with the launch of (1) mixed reality products and applications, with a device expected to be unveiled this year, and (2) autonomous vehicle technology. AAPL investors, therefore, might need to be patient and wait to hear from the mothership about its own AI initiatives later in 2023 and beyond.
For now, Apple is not at the center of the conversation because it is not a serious competitor in web search, the hot topic of the week. Rather than having its own in-house solutions, Apple collects from Alphabet for making Google the default search engine on its devices.
But rest assured: AI is only ramping up, and Cupertino is likely to be a key player in this arena.
Ask Twitter
Of the mega-cap tech companies, who do you think will be recognized as the big winner in (or key beneficiary of) artificial intelligence a few years down the road? Feel free to comment and explain your answer.
(Disclaimers: this is not investment advice. The author may be long one or more stocks mentioned in this report. Also, the article may contain affiliate links. These partnerships do not influence editorial content. Thanks for supporting the Apple Maven)
Friendly communicator. Music maven. Explorer. Pop culture trailblazer. Social media practitioner.