APPLE STOCK
What Exactly Happened To Warren Buffett's Position In Apple Stock?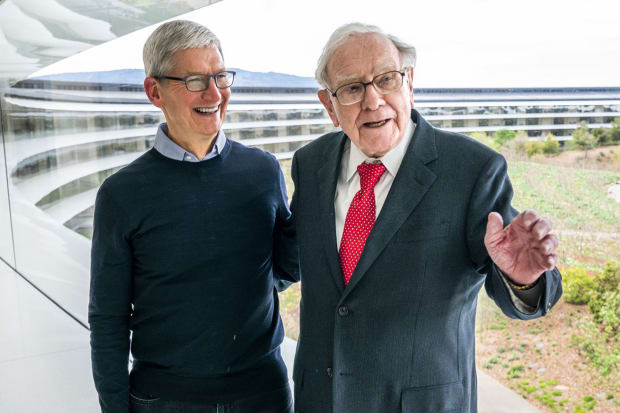 Berkshire Hathaway's reported increase in Apple shares was due to a reporting change, not additional purchases; subsidiary NEAM's 20.5M shares were included in the total.
Despite no new purchases, Berkshire remains bullish on Apple, with the tech giant comprising 46% of its portfolio due to significant stock appreciation.
AAPL's value grew by 32% in Q1 2023, contributing to the portfolio's increased Apple proportion from 37% to 46% in a mere three months.
---
Recently, it was widely reported that Warren Buffett's Berkshire Hathaway had increased its position in Apple stock (AAPL) – Get Free Report. Could the Oracle of Omaha be even more bullish on Apple, even though the stock already represented 37% of Berkshire's portfolio in 2022?
It turns out that a filing technicality led a few people into thinking so. Below is a summary of what happened to Buffett's AAPL position in the first quarter of 2023.
Read more from Apple Maven: Apple: One More Reason Why Margins Could Rise
Apple Shares Owned By Subsidiary
As of the end of calendar Q1, Berkshire Hathaway owned 915.6 million Apple shares. At that time, the holding was worth $151 billion, a bit less than today's market value of $158.2 billion.
The number of shares owned was about 20.5 million more than the Q4 quarter-end count, which led some in the media to think that Berkshire had increased its Apple stock ownership. What happened instead was a mere change in reporting.
Until Q4, AAPL shares owned by Berkshire's subsidiary New England Asset Management, or NEAM, were reported separately within an "other" bucket. But starting in Q1, the conglomerate will show those NEAM shares as part of Berkshire's own stash, as explained here.
NEAM owned exactly 20.5 million shares of Apple stock, which explains the increase in Berkshire's numbers from Q4 to Q1.
Still, Buffett Is A Massive AAPL Bull
Only because Berkshire did not increase its AAPL stake this time does not mean that the conglomerate is not very bullish on the stock. As of the end of Q1, Apple represented a whopping 46% of Berkshire's portfolio. See below.
The massive jump from the previous quarter's 37% is not due to more shares owned, as discussed above. Instead, it is due to Apple stock appreciating so much more than all other holdings in the portfolio: 32% in only three months.
Ask Twitter About AAPL
Apple stock accounts for nearly half of Berkshire Hathaway's entire portfolio. What do you think of Warren Buffett's highly concentrated strategy?
(Disclaimer: this is not investment advice. The author may be long one or more stocks mentioned in this report. The article may contain affiliate links, but these partnerships do not influence editorial content. The author may use AI tools, including OpenAI's ChatGPT, to create and summarize some of the article's content. Thanks for supporting Wall Street Memes.)
Friendly communicator. Music maven. Explorer. Pop culture trailblazer. Social media practitioner.