APPLE NEWS
This backpack will support Apple's "Find My" location tracking without AirTag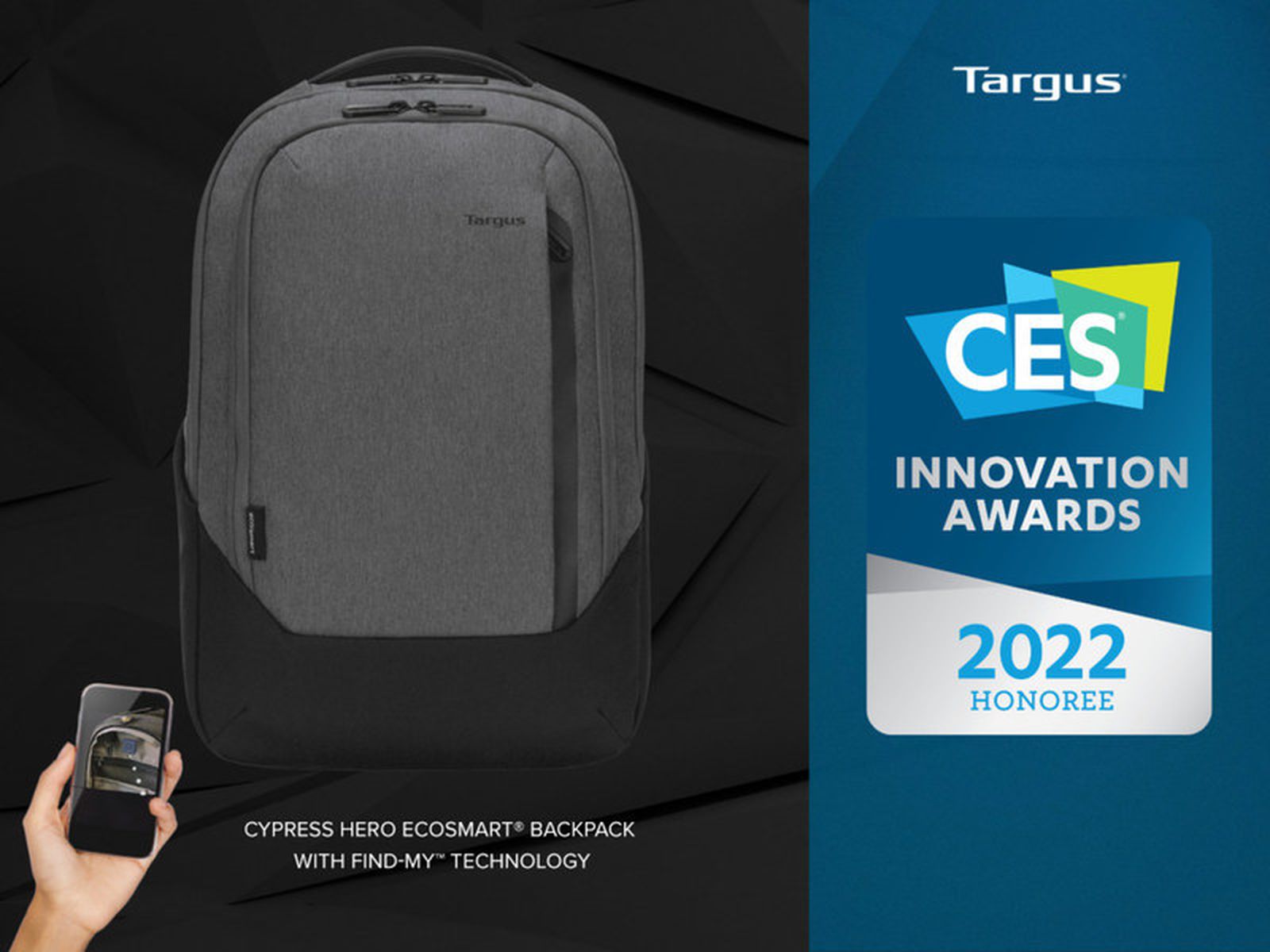 Accessory maker Targus announced this week that its Cypress Hero EcoSmart backpack with built-in support for Apple's Find My app has been named the winner of the CES 2022 Innovation Awards ahead of the annual technology event in Las Vegas.
The backpack is equipped with a small tracking module that allows you to track the location of the backpack in the Find My app on iPhone, iPad, Mac and Apple Watch without the need to use AirTag. Based on the image displayed on the CES website, the backpack appears to support Precision Finding, allowing users with the iPhone 11 or later to see the exact distance and direction to the backpack with audio, visual and haptic feedback. Apple unveiled a U1 chip for third-party accessories earlier this year.
If the backpack is separate from its owner, but out of Bluetooth range, there is still a chance that the Find My network can help him find it. If another iPhone user accidentally passes by the backpack, for example, their iPhone can detect Bluetooth signals from the backpack and anonymously transfer the location to its owner.
Targus said the backpack has a padded compartment that can accommodate up to a 16-inch MacBook Pro, as well as several other compartments and pockets for additional devices and personal items. "The equivalent of 26 plastic water bottles made of recycled material was used in the production of each backpack," the company added.
The backpack should be available in retail in the spring of 2022, but the price has yet to be announced. CES 2022 takes place January 5-8 in Las Vegas and online.
Related Stories
Apple is lowering device replacement prices in the US
Apple today updated its iPhone replacement website, lowering the maximum replacement prices for almost all of its replacement options. By trading the iPhone 12 Pro Max, for example, you will now get $ 700, $ 90 less than it was worth yesterday. With Apple's trade-in program, customers can send their old devices and get an Apple gift card that can be put on to purchase a new device. apple …
WhatsApp introduces multi-device support to all users on iOS and Android
WhatsApp has introduced multi-device support for all users on iOS and Android, allowing WhatsApp to be used on up to four connected devices without the need for users to be connected via a smartphone. To enable multi-device support, users must join the multi-device beta. Launch WhatsApp on iPhone, then select Settings -> Connected Devices. Select Multi-Device Beta, then tap Join Beta. Once it's …
Twitter implements top MacBook professionals in application development teams
Twitter is implementing state-of-the-art MacBook Pro devices with the M1 Max Apple silicone chip to all of its iOS and Android application development engineers, another boost to the company's adoption of Apple silicone Macs. The news was shared by John Szumski, a senior Twitter official for the company's mobile platforms. In a tweet, Szumski said that Twitter will launch …
Apple announces 'Business Essentials' service for small businesses
Apple today announced the debut of Apple Business Essentials, a new subscription-based service that will offer device management such as setup and power, iCloud storage and optional access to Apple's 24/7 support for small businesses with up to 500 employees. Apple Business Essentials will allow small businesses to easily configure, deploy and manage Apple products from anywhere and …
Apple goes back iPhone 13 screen repair restriction that disabled Face ID
Following the launch of the iPhone 13, iFixit and other independent services have found that replacing the iPhone screen makes Face ID non-functional, limiting repairs to Apple itself, Apple Authorized Repairers and Apple repair shops. The change was made much more difficult by smaller, independent workshops for repairing iPhone 13 screens on broken …
Tim Cook reveals that he owns a cryptocurrency and has been 'interested in it for some time'
Apple CEO Tim Cook today publicly revealed for the first time that he had personally invested in cryptocurrencies and that he had been interested in it "for some time". The comments came during Cook's appearance at the New York Times "DealBook" summit, where Cook was asked about privacy, foreign uploads, and more. Asked if he owned any cryptocurrency, Cook replied, "I have," adding that …
Friendly communicator. Music maven. Explorer. Pop culture trailblazer. Social media practitioner.