MAC
These macOS Monterey features will not work with Intel-based Macs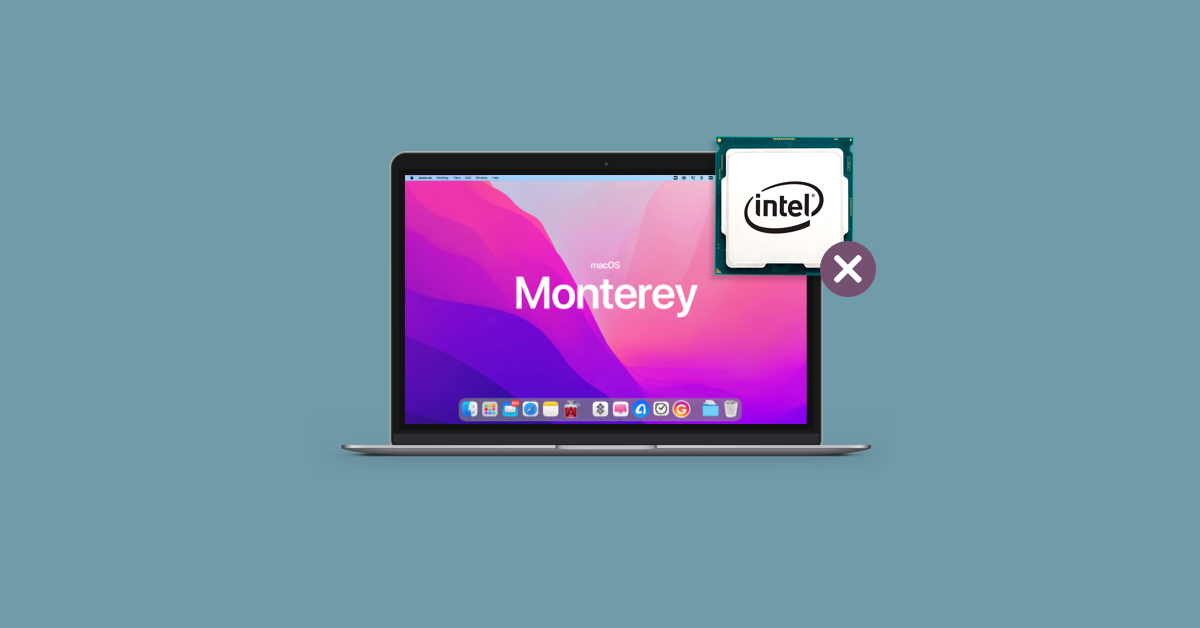 Apple's next Mac OS – macOS Monterey – comes out sometime this fall. The company has already revealed a lot about the new macOS and we are all very excited about the upcoming new features that will make our lives and workflows simpler and more efficient.
The catch with the macOS update this time is that some features of the Monterey macOS will not work with Intel-based Macs.
Don't throw away your Intel-based machine yet. Let's take a closer look at what exactly will be absent on previous generations of Macs compared to M1-chip Macs, and how that means for your Mac's needs.
macOS Monterey Review
Here's a brief look at all the features we've discovered so far that won't be available on Intel-based Macs:
Portrait mode in FaceTime
3D interactive view of the globe in Apple Maps
Unprecedented details for maps of San Francisco, LA, New York and London
Keyboard dictation updates: offline dictation plus continuous dictation
Neural voice to convert text to speech in Swedish, Danish, Norwegian and Finnish
Map updates
Then, M1 devices will have access to a set of wonderful updates for Maps. Users will be able to explore a 3D interactive view of the globe plus super-detailed maps of these major cities: San Francisco, LA, New York and London.
The interactive globe view will show improved details about mountain ranges, deserts, forests, oceans, etc.
Enhanced maps of San Francisco, LA, New York, and London will feature detailed altitudes, roads, trees, buildings, landmarks, and more.
FaceTime Portrait mode
FaceTime gets a bunch of updates with Monterey, and Portrait mode is one of them, but it only comes on Apple silicone devices.
You'll be able to use the new way to blur the background and keep the focus of your video chat app just on you. We, for example, couldn't be more excited – there's no need to clean the room before an unexpected video call!
Keyboard dictation improvements
A new offline dictation feature is set up to keep the information you give to your macOS on your device. This is a great privacy measure, but unfortunately, it looks like it will only be available to M1 users.
Additionally, another new dictation feature – continuous dictation – will allow Mac owners with an M1 chip to dictate text of any length on the device, without the need for pauses. Previously limited to 60 seconds, now dictation on the device will work without any annoying time limits.
Conclusion
The following macOS wants to capture the functionality of the M1 chip with several features exclusive to Apple silicone: Live Text, Portrait mode in FaceTime, 3D interactive globe display in Maps, incredibly detailed for maps of San Francisco, LA, New York and London, keyboard dictation upgrades – offline and continuous dictation, as well as a neural voice to convert text to speech in additional languages ​​- Swedish, Danish, Norwegian and Finnish.
You can explore a list of the best macOS Monterey features in our review here. A full list of all the officially announced upcoming new features with this macOS is available on the official Apple website here.
And if this post inspired you to fill your Mac with new features and capabilities, you don't have to wait until the fall to do so. Explore our hand-crafted Mac-Setapp application suite. Dozens of task-oriented applications will help turn your workflow into an efficient and enjoyable experience in an instant. Find applications in Setapp based on the tasks you need to perform and use them immediately.
Don't have a subscription to Setapp? No problem, take advantage of the 7-day free trial to try out all the apps and see how your Mac experience can be enhanced with our handy collection of helpers and amps.
You have no idea where to start? Start with TextSniper, a handy text extractor from anywhere on the screen. Just select and release and the text will be in your clipboard.
Update: The Live Text feature was originally announced as available only for devices with the M1 chip, but with macOS Monterey beta 5 Live Text became available for all Macs that support Monterey macOS, so we removed parts about Live Text from this blog, but don't worry, they were really there, you don't invent things;)
Friendly communicator. Music maven. Explorer. Pop culture trailblazer. Social media practitioner.