MAC
The supreme showdown of macOS Monterey against Big Sur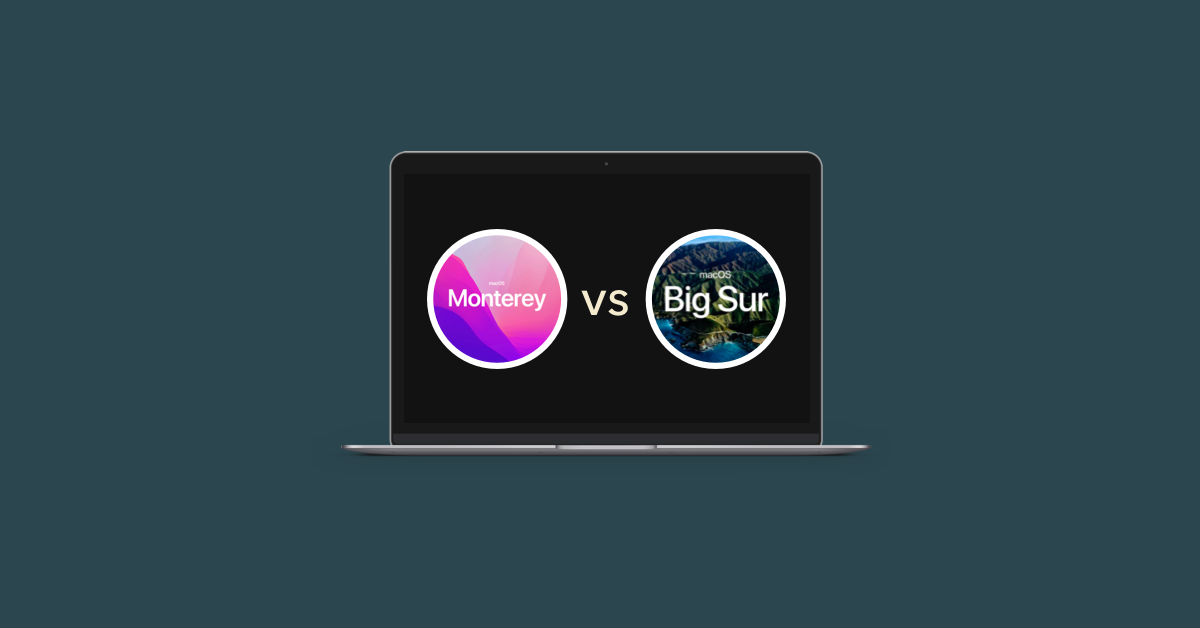 macOS Monterey – Apple's latest operating system – is available to all Mac users from October 25, 2021. In this article, we answer compatibility questions with macOS 12 Monterey, what features it brings and how it compares to the previous macOS Big Sur.
What's new in macOS 12 Monterey
The new macOS Monterey is a major update to the Mac operating system. It brings a bunch of great new features, including faceTime overhaul, adding shortcuts, live text, universal controls, focus, handy privacy enhancements, and fan favorite settings – notes, maps, and Safari.
Please note that some of the new features will only be available to M1 Mac owners. We've added the aforementioned features to a separate list at the end of the article to help all Intel-based Mac owners.
macOS Monterey release date
MacOS Monterey is available to everyone from October 25, 2021, and a beta version for developers is available from early June.
And most importantly, is macOS Monterey free? Yes, this is a free software update for eligible Mac models (see list below).
Monterey vs Big Sur – game duel
In the age of work from home, Monterey adds a collection of new features designed for more efficient online collaboration and networking, task management, focusing and facilitating small tasks.
Is it worth updating? Let's take a look at the biggest new features in Monterey vs Big Sur.
A look into the modern future
The Monterey OS is all about making your experience smoother, more modern and more integrated. It seems to aim at interconnecting, functionality and merging all the amazing features into a perfect, almost unrealistically perfect flow.
In Monterey, the FaceTime app adds screen sharing capabilities, network display, portrait mode (this only on M1 Macs), surround sound, and a SharePlay feature for sharing shows and movies together, as well as listening to music. Plus, you can now share a link to your FaceTime call outside of the Apple ecosystem! You can't do that in Big Sur.
With the Live Text feature included in macOS Monterey, your Mac can now "see" text in photos. No need to retype things to look up an address or save a phone number. Live Text recognizes text in applications such as Safari, Photos, Quick Look and Screenshot, so you can copy or use it directly for your needs. How do we know this is great? We already use a third-party TextSniper app to select text in non-text format anywhere on the screen.
Monterey's Universal Control is almost science fiction. In the upcoming macOS you will be able to use the mouse, keyboard and trackpad on different devices. One such use is dragging and dropping an item between your desktops. It's almost magic. In Big Sur, as you may know, Continuity and Handoff are the backbone of connecting your devices to the ecosystem, Universal Control provides opportunities even further.
Another seamless interconnectivity is the Monterey OS which allows the Mac to work as an AirPlay speaker.
Where Big Sur has supported a 3D experience for selected cities, Monterey sees Maps add an interactive 3D globe with detailed mountain ranges, deserts, forests and more. And while only lucky owners of new Macs equipped with an M1 chip will be able to enjoy it, this feature still sounds amazing. In addition, in Monterey, Maps will add very detailed maps of major cities such as San Francisco, LA, New York and London.
Perfectly efficient for work and leisure
Focus is something new coming in macOS. The app helps you focus. It aims to help get the job done with customizable settings to protect you from interference, including filtering notifications.
Notes are better. Both in Big Sur and in Monterey. In Big Sur, Notes added fast styles, top hits, and improved scanning. In Monterey, the app becomes even more sleek. With the upcoming update, Notes gets a Quick Note feature – something to help you capture ideas and thoughts while working in another app. Tags and mentions are also set to appear. The activity view will now help you see the change history for any given note.
Shortcuts are another brand new thing in macOS. Monterey adds this automation app to help you create shortcuts for a series of different actions you often do on your Mac. This is designed to bypass the routine and save time and memory space for better things. This simple yet powerful add-on will come to your Mac with macOS Monterey this fall. If you haven't tried anything like this yet (and we have – with the third-party Keysmith app, and we can assure you it's extremely handy), pre-built shortcuts in Shortcuts will help you get started with the app.
The safari is getting nicer. In Big Sur, Safari has had a huge revision, adding a customizable homepage, faster performance, favicons in tabs, website reviews, a privacy report and more. More settings and add-ons are underway in Monterey. The Safari tab bar is becoming more integrated into the page you are viewing, you can now group tabs, share these groups, and sync your devices. Plus, more privacy. And since we mentioned it, let's talk about all the expected privacy improvements with macOS Monterey!
Never care about privacy
Privacy is something that Mac users often appreciate. This means the new macOS simply has to come with privacy updates, and Monterey is ready for delivery.
While Big Sur has added a Safari Privacy Report and developer privacy practices they reported themselves to the App Store, Monterey has several new solutions up its sleeve. The new OS is expected to add a number of significant privacy enhancements to Mail, Safari and iCloud +.
Mail is now set up to allow you to hide the sender's IP address and location from your recipients. Safari intelligent tracking prevention to prevent followers from profiling you using your IP. iCloud + adds iCloud Private Relay for safer and more private browsing.
In addition, in macOS Monterey, a new recording indicator will show you when the app is accessing your microphone. In addition, you can see apps with microphone access in the Control Center.
Dictation on the device in Monterey is set to process your speech offline, protecting data from possible damage (available only on M1 Macs).
Supported Macs
Apple's Monterey review page for macOS lists the following devices that can run macOS Monterey:

Here is a complete list of macOS Big Sur compatible devices:

iMac, in late 2015 and later
iMac Pro, 2017 and later
Mac Pro, late 2013 and later
Mac mini, late 2014 and later
Macbook, early 2016 and later
Macbook Air, early 2015 and later
Macbook Pro, early 2015 and later

MacBook (2015 or later)
MacBook Air (2013 or later)
MacBook Pro (2013 or later)
Mac Pro (2013 or later)
Mac Mini (2014 or later)
iMac (2014 or later)
iMac Pro (2017 or later).
As we said, a few selected features in the new Monterey macOS will only be available on Apple silicone Macs, although a bunch of Intel-based Macs (as mentioned above) will also get this big system update.
Features that will not work on Intel-based Macs:
Portrait mode for FaceTime
Keyboard dictation updates: offline dictation and continuous dictation
3D interactive view of the globe in Apple Maps
Extremely detailed maps of San Francisco, LA, New York and London
Addition of a neural voice to convert text to speech in these new languages: Swedish, Danish, Norwegian and Finnish
Want to know more about them? We have described each in detail in a separate blog update here.
Problems of Big Sur and Monterey
Smaller or more significant, no OS comes without any problems. Often a simple restart can solve your problem, but sometimes you'll even have to go all the way back to Big Sur.
Let's take a look at some of the reported issues with Big Sur.
One of the problems that is more often written about Big Sur concerns the quick switching of users. MacRumors shares that some users report occasional problems with this feature – when they change users, a screensaver may appear, and to log in again, users must open and close their Mac cover or lightly press the power / touch ID button.
9to5mac notices another problem with the Big Sur – large background downloads via the Apple News app. We are talking gigabytes. One known solution is to undo the iCloud sync of the app. To do this, click on the Apple menu and go to System Preferences> Apple ID> iCloud, deselect News.
Most beta users seem to love Monterey and enjoy the new features brought by the upcoming macOS update. There are a few flaws we've noticed have been reported, so let's take a closer look at them.
The first thing you need to be aware of if you are considering whether to stick to the Big Sur or upgrade to Monterey are the features that are exclusive to the M1 Macs. If you want to update, say, Portrait Mode in FaceEime, you're out of luck on an Intel Mac. This feature is reportedly reserved only for Apple Silicon, just like the 3D interactive globe display in Apple Maps, offline dictation and continuous dictation, and several others.
Monterey is also not available for some older Macs while Big Sur is. For example, Big Sur is available for the 2014 iMac, but Monterey is not. Big Sur is also working on the 2015 MacBook, the 2013 MacBook Air, the late 2013 MacBook Pro, while the Monterey will be available for the MacBook in early 2016 and the MacBook Pro and Air in early 2015.
Finally, the new OS may be worse in the beginning as upcoming problems arise, while using the good old macOS you've been working with for months is a safe choice until all possible flaws are fixed. In addition, any applications you have used that are not optimized for the new OS may crash here and there.
So is it worth upgrading to Monterey?
While we love-love-love Big Sur, macOS Monterey looks like an exciting new extension to the macOS collection. The new features are set up to make working on your Mac smooth and smooth, improving your productivity and focus. It's something we're trying to do with our Setapp app suite, so we can definitely connect.
Monterey brings privacy enhancements, new features for notes, folders, Safari, FaceTime, new add-ons – shortcuts, focus, live text and, of course, universal control.
Our verdict – Monterey is definitely a worthy improvement and we can't wait for the new OS to arrive on our machines. And while we wait, we can explore all the productivity solutions for our day-to-day tasks in the Setapp suite, a collection of apps that help improve your performance and solve everyday tasks.
You can try Setapp for free with our 7-day trial and enjoy the extra features on your Mac today!
Friendly communicator. Music maven. Explorer. Pop culture trailblazer. Social media practitioner.