HARDWARE
Supermicro Lists Intel Data Center GPU Max 'Ponte Vecchio' Based Machines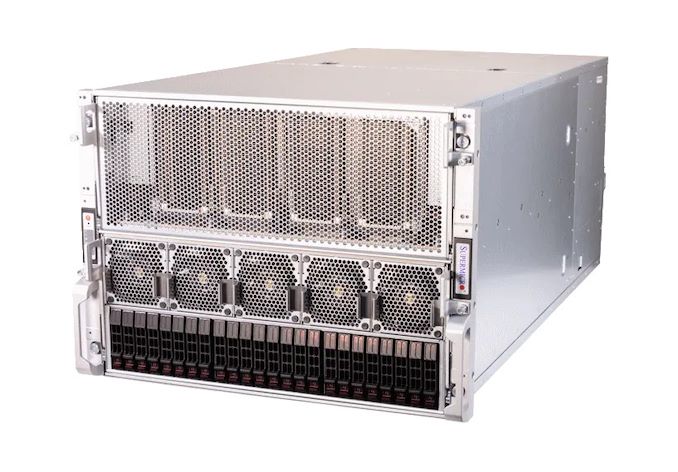 Supermicro this week began to list the industry's first commercial servers based on Intel's Data Center GPU Max 'Ponte Vecchio' compute GPUs. The machines use Ponte Vecchio in add-in-board and OAM module form factors, aiming at high-performance computing and large-scale AI training.
Supermicro currently has two servers qualified for Intel's Ponte Vecchio compute GPUs: the SYS-421GE-TNRT machine that can house up to 10 Data Center GPU Max 1100 cards with 480GB of HBM2 memory (48GB per board) as well as the SYS-821PV- TNR that can accommodate up to eight Data Center GPU Max 1550 OAM modules with 1TB of HBM2 memory onboard (128GB per card) and combined performance of 6.7 BF16/FP16 PetaFLOPS at 4.8 kW.
Both machines are based on two of Intel's 4th Generation Xeon Scalable 'Sapphire Rapids' processors that can be mated with up to 8TB of DDR5 memory using 32 256GB modules. As for storage, both machines have 24 2.5-inch hot-swap bays for U.2/SATA/SAS drives (8x 2.5-inch NVMe hybrid; 8x 2.5-inch NVMe dedicated), and the SYS-421GE-TNRT also has two M.2 slots for PCIe drives.
For now, Supermicro sells the SYS-421GE-TNRT with Nvidia's A100 80GB or H100 80GB boards, but it looks like if requested, it can install Intel's Data Center GPU Max 1100 AIBs instead: the machine is fully qualified to run them, so throwing them in and installing required software should not take too long.
Meanwhile, the SYS-821PV-TNR that can house up to eight Data Center GPU Max 1550 OAM modules is listed as 'coming soon.'
Supermicro is currently the only supplier of commercial machines for AI and HPC workloads that offers systems equipped with Intel's Data Center GPU Max cards and modules. However, it is reasonable to expect other leading suppliers of servers to start selling similar products shortly.
Although Supermicro offers Intel Ponte Vecchio-based servers, it does not disclose their prices, as it always happens with AI and HPC machines configured individually and sold in quantities.
Source: Supermicro (@SquashBionic)
Friendly communicator. Music maven. Explorer. Pop culture trailblazer. Social media practitioner.