HARDWARE
Micron Expects Impact as China Bans Its Products from 'Critical' Industries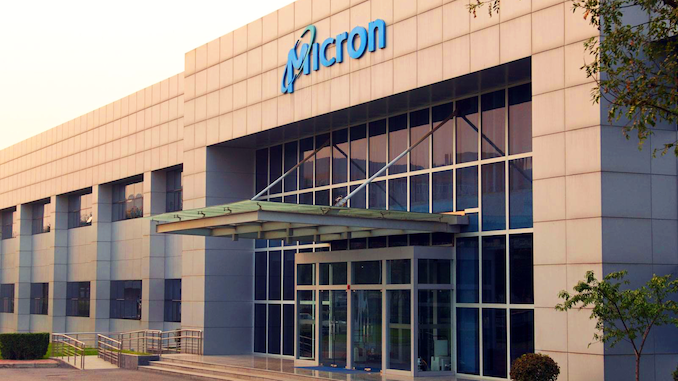 In the latest move in the tit-for-tat technology trade war between the United States and China, on Sunday the Cyberspace Administration of China announced that it was effectively banning Micron's products from being purchased in the country going forward. Citing that Micron's products have failed to pass its cybersecurity review requirements, the administration has ordered that operators of key infrastructure should stop buying products containing chips from the US-based company.
"The review found that Meiguang's products have serious hidden dangers of network security problems, which cause major security risks to China's key information infrastructure supply chain and affect China's national security," a statement by CAC reads. "Therefore, the Cyber ​​Security Review Office has made a conclusion that it will not pass the network security review in accordance with the law. According to the Cyber ​​Security Law and other laws and regulations, operators of key information infrastructure in China should stop purchasing Micron's products."
The CAC statement does not elaborate on the nature of 'hidden dangers' and about the risks they pose. Furthermore, the agency did not detail which companies are considered as 'operators of key information infrastructure,' though we can speculate that these are telecommunication companies, government agencies, cloud datacenters serving socially important clients, and a variety of other entities that may deem crucial for the society or industries.
For US-based Micron, while the Chinese market is a minor one overall, it is not so small as to be inconsequential. China and Hong Kong represent some 25% of Micron's revenues, so the drop in sales is expected to have an impact on Micron's finances.
"As we have disclosed in our filings, China and Hong Kong headquartered companies represent about 16% of our revenues," said Mark Murphy, Chief Financial Officer at Micron, at the 51st Annual JP Morgan Global Technology, Media and Communications Conference. "In addition, we have distributors that sell to China-headquartered companies. We estimate that the combined direct sales and indirect sales through distributors to China-headquartered companies is about a quarter of our total revenue."
The trade war implications aside, the 'key information infrastructure' wording of the government order leaves unclear for now on just how wide the Micron ban will be. Particularly, whether Micron's products will still be allowed to be imported for rank-and-file consumer goods. Many of Micron's Chinese clients assemble PCs, smartphones, and other consumer electronics sold all around the world, so the potential impact on Micron's sales could be significantly lower than 25% of its revenue as long as they are allowed to continue using Micron's parts.
"We are evaluating what portion of our sales could be impacted by a critical information infrastructure ban," Murphy added. "We are currently estimating a range of impact in the low single-digit percentage of our company's total revenue at the low end and high single-digit percentage of total company revenue at the high end."
The decision CAC decision comes after the US government barred Chinese chipmakers from buying advanced wafer fab equipment, which is going to have a significant impact on China-based SMIC and YMTC, and years after the US government implemented curbs that essentially drove one of China's emerging DRAM makers out of business. Officially, whether or not the CAC decision has been influenced by the sanctions against Chinese companies by the US government is an unanswered question, but as the latest barb between the two countries amid their ongoing trade war, it's certainly not unprecedented.
Sources: Micron, Reuters, SeekingAlpha, CAC.
Friendly communicator. Music maven. Explorer. Pop culture trailblazer. Social media practitioner.