MAC
how to check and change your network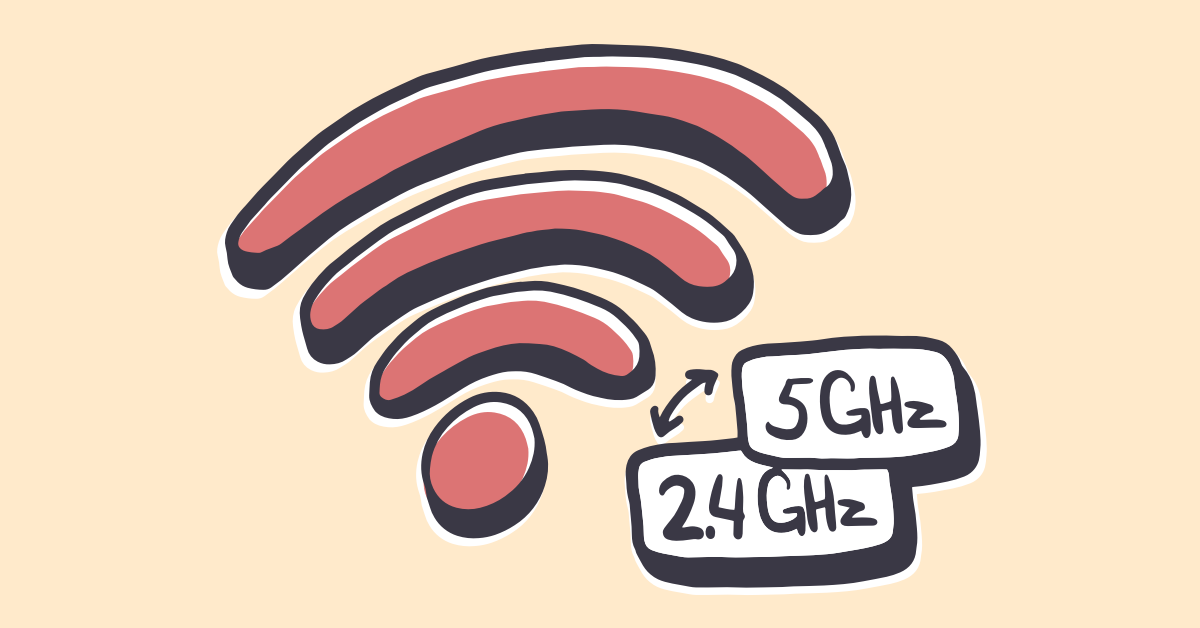 Accessing the best wifi channel in your home or office (or home office!) Can make all the difference in the world. Most routers have several wifi channels, but not all have the same signal strength or range.
Choosing the right wifi channel is not always as easy as it seems. Signal strength is just one metric to measure performance. Depending on the size and layout of your building, there is a good chance that the strongest signal is not even right for you!
Somehow fast wifi signal has become the latest metric of technological vanity. Here we will show you how to check wifi channels, analyze the strength and reliability of your signal and tell you about the WiFi analyzer app we really like.
What is a WiFi channel?
A WiFi channel is the frequency at which your router sends information to your device.
Most routers and devices support several bands for your WiFi connection, the most popular being 5 GHz and 2.4 GHz. Each of these bands is divided into smaller grooves that are channels.
Which channel is best for WiFi
Deciding which wifi channel is the best option is very subjective. There are countless factors that can affect which signal is actually best for you.
There are two main wifi bands: 2.4 GHz and 5 GHz. The 2.4 GHz band is technically slower, but has the distinct advantage of being able to reach beyond the 5 GHz band.
And the 5 GHz band is much faster than the 2.4 GHz band, but you have to be pretty close to the router, and the 5GHz wifi band has problems with objects like walls or doors. If you are in the same room as your router, and your machine has direct visibility, 5 GHz is usually your best choice.
As the 2.4 GHz band reaches further, there is a chance that you will see interference, although this is typically a problem for older routers.
How to scan WiFi channels
Your first option is to determine which WiFi signals are available to you. Here's how to check for available networks on your Mac:
On the menu bar, click Apple logo> System Preferences.
Select 'Network'

Check all the wifi networks available to you by clicking on the name of your network


Make sure the "show wi-fi status" menu bar is selected so you can check these networks directly from the menu bar, just select the drop down menu below the wifi icon.
This way you can see all the wifi networks available to you. As you can see in the image above, a normal environment will have tons of WiFi signals available for your Mac. Most are probably locked because they are private, but this is a good illustration of how crowded the ethers are for wifi signals. Also, read our article on how to see the WiFi password on a Mac.
Your Mac's built-in wifi analyzer is great for identifying the channels available to you, but going beyond that takes a lot of messing with settings that most of us won't like. Instead, we have two options you'd like to check out: NetSpot and Wifi Explorer.
NetSpot is a robust wifi channel scanner that returns a ton of data. On its main screen you will see all available networks in your area. This is convenient, but NetSpot goes a step further in offering detailed details about your signals.
In addition to bandwidth, channels are critical. In the image below, we will focus on two areas: channel and level (SNR).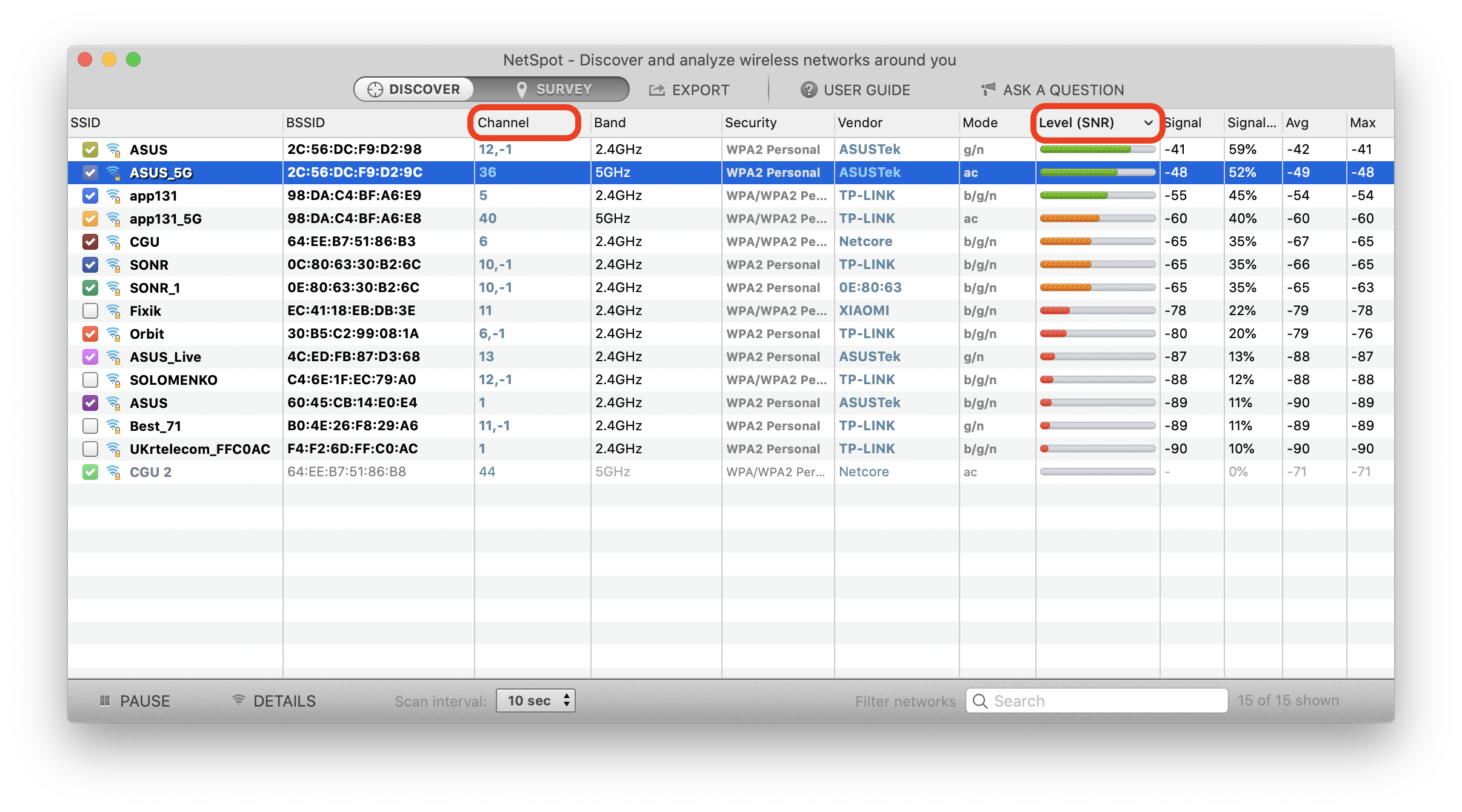 Channels are like fine tuning for wifi bands. For example, if your entire neighborhood was in the 2.4 GHz band, and everyone was on Channel 6, there would be a lot of interference. They're all on the same bandwagon, on the same channel, and it's getting noisy.
Bands also have unique channels available to them, and each channel has a unique resonance. In NetSpot, navigating to 'Discover> Show details of selected networks' from the menu bar opens a new window.

Navigating to specific channel tabs gives you details about the channel frequency in the range: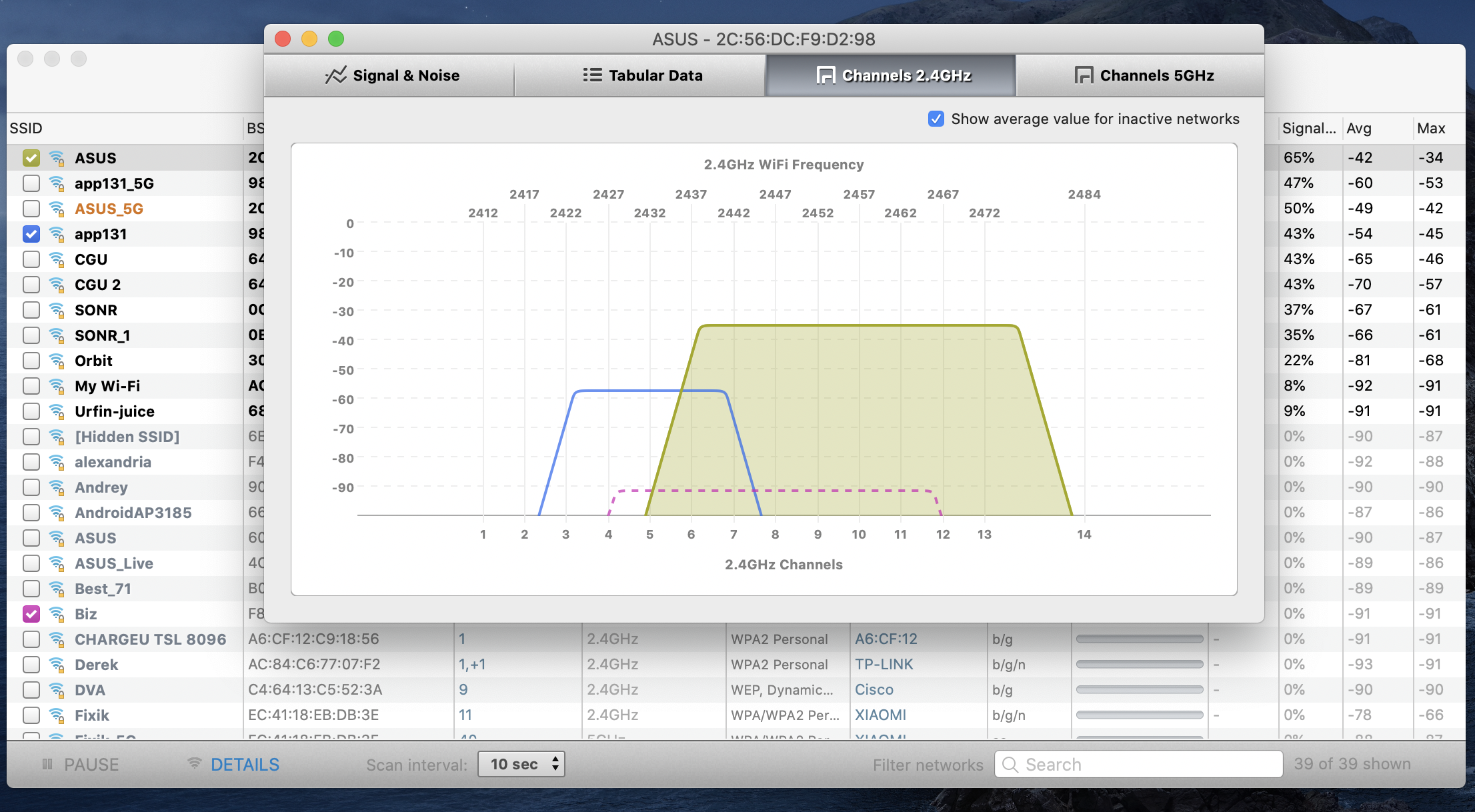 Here we can see that the 2.4 GHz band is available on channels 2-14, and the strongest on channels 5-14.
Let's go a step further. If we isolate NetSpot to one wifi band, we can see its channel and signal strength shown in the menu and chart. We are on channel 10, and our signal strength is -41. (For signal strength, the numbers are negative, and zero is the best you can get.)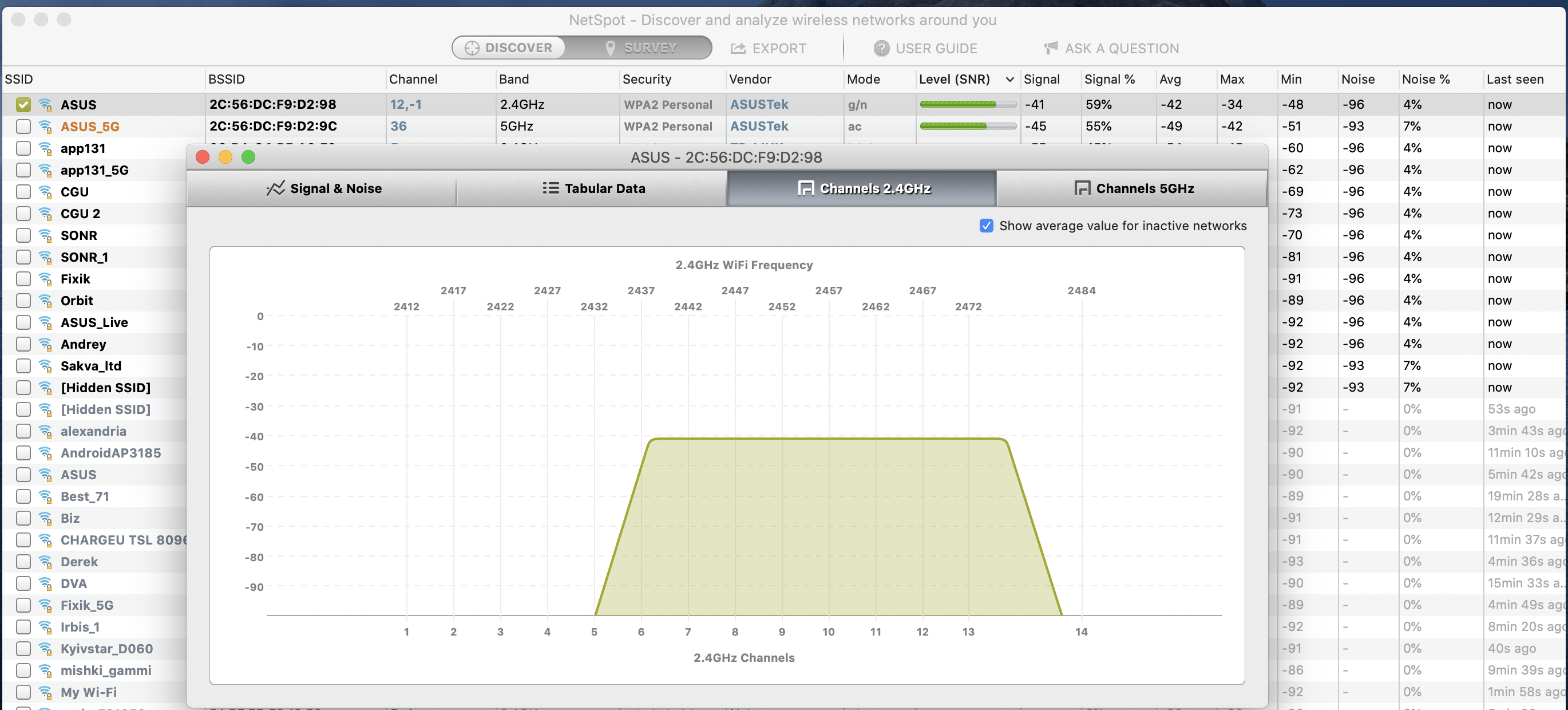 If you take NetSpot a step further, going to the 'survey' tab at the top of the window opens the option to add a map of your room, home or office. This allows you to create a heat map of your area, which analyzes your home or office (or in this case your home office) to see where the signal is strongest.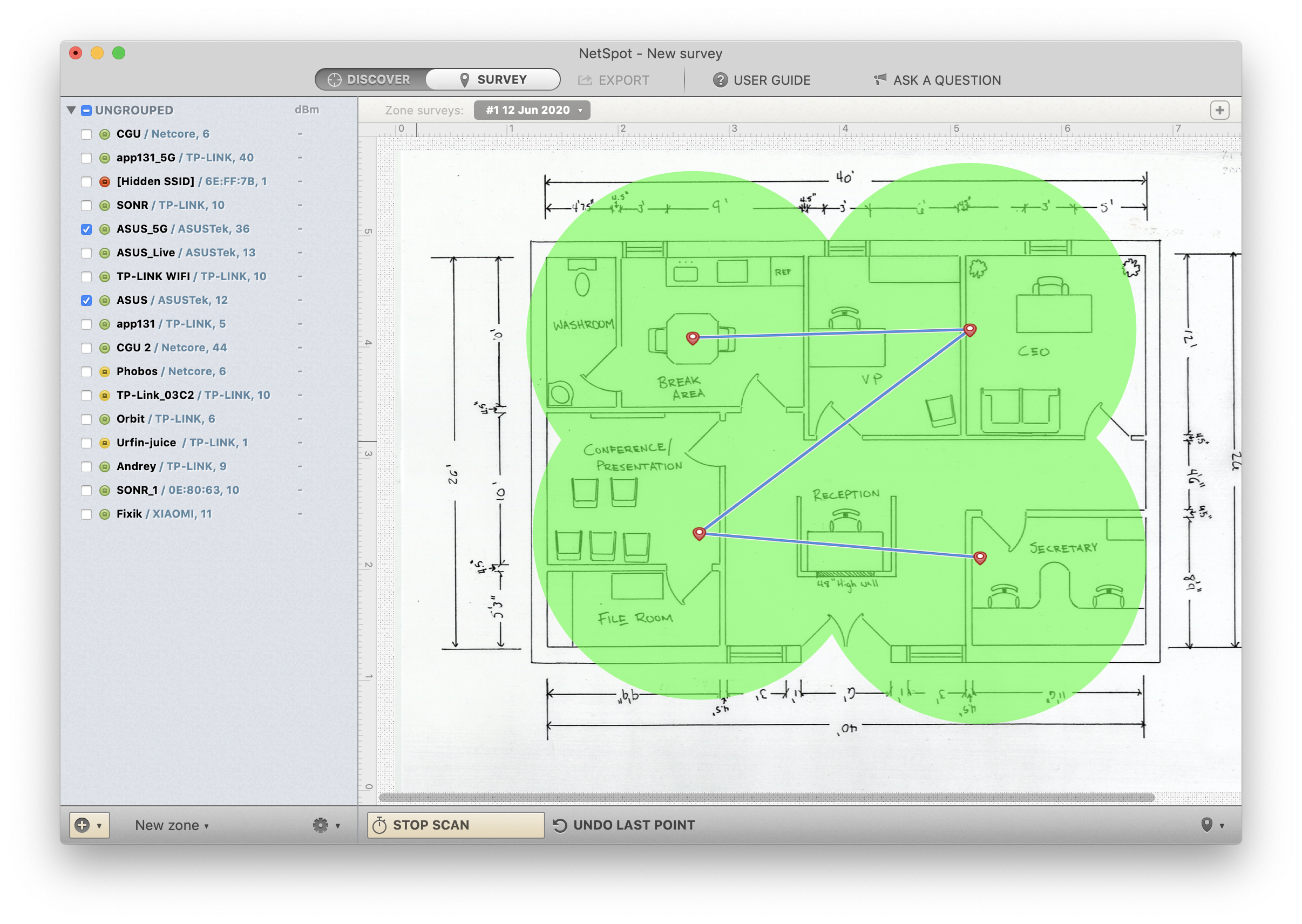 This helps for several reasons. First, you may find that your router is not in the optimal location. Second, you may need to create an appropriate mesh network to saturate your environment with the strongest signal. (Our example is a bit distorted; the router is in the same room, so our signal is really strong!)
Wifi Explorer displays a lot of information, just like NetSpot. It is a really powerful wifi channel analyzer and wireless channel scanner, and we enjoy its minimal interface.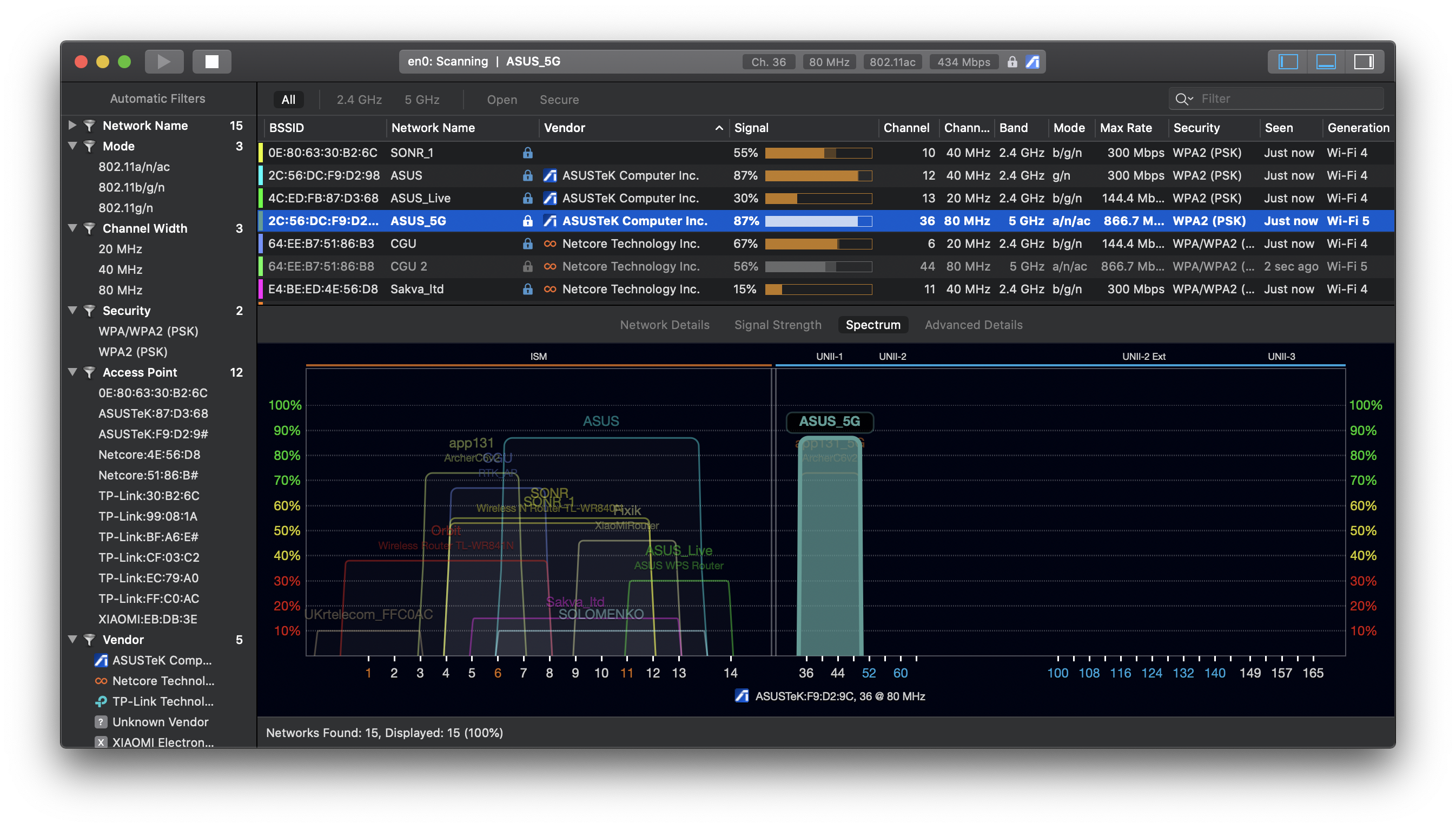 But it also returns a ton of information. As a wifi tester, it is a really powerful application; you will see a lot of information about your networks. There is an option to switch additional views in the upper right corner of the Wifi Explorer window, which brings some nice views.
You can filter results based on network name, mode, channel, security, access points, and vendors on the left. The right side of the screen can show you all known network problems.
The lower pop-up window is where a large value is predicted. This shows you the strength of your signal and what bands and channels are available. Each 'tower' in the band segment is a router; each tower in part of the canal is a grid.
This view shows you instantly and in real time which bands and channels you are using and which are the strongest. The main view provides all the same data as NetSpot.
What is the best WiFi channel?
The best wifi channel is the one with the strongest signal and limited noise. Your router should automatically display the strongest band / channel combination for you. If you need to know how to change the wifi channel for your Mac, it's not easy. Basically you have to create a network from scratch and assign it a channel. Chances are high that simply turning on WiFi or resetting the router will solve all the problems, and both are far simpler than setting up a new network.
If you want to change networks, it's easy. In the menu bar of your Mac, select the wifi icon and just click on the wifi network you want to join.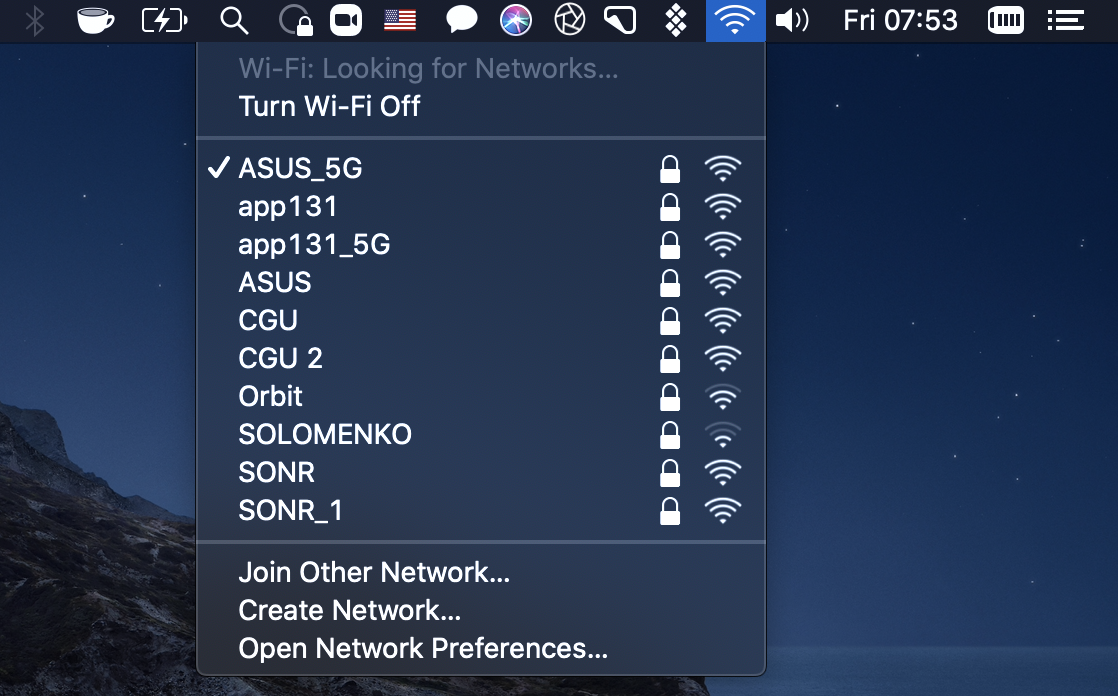 Generally speaking, the 2.4 GHz band operates on channels 8-13, while the 5 GHz band uses channels 35-165.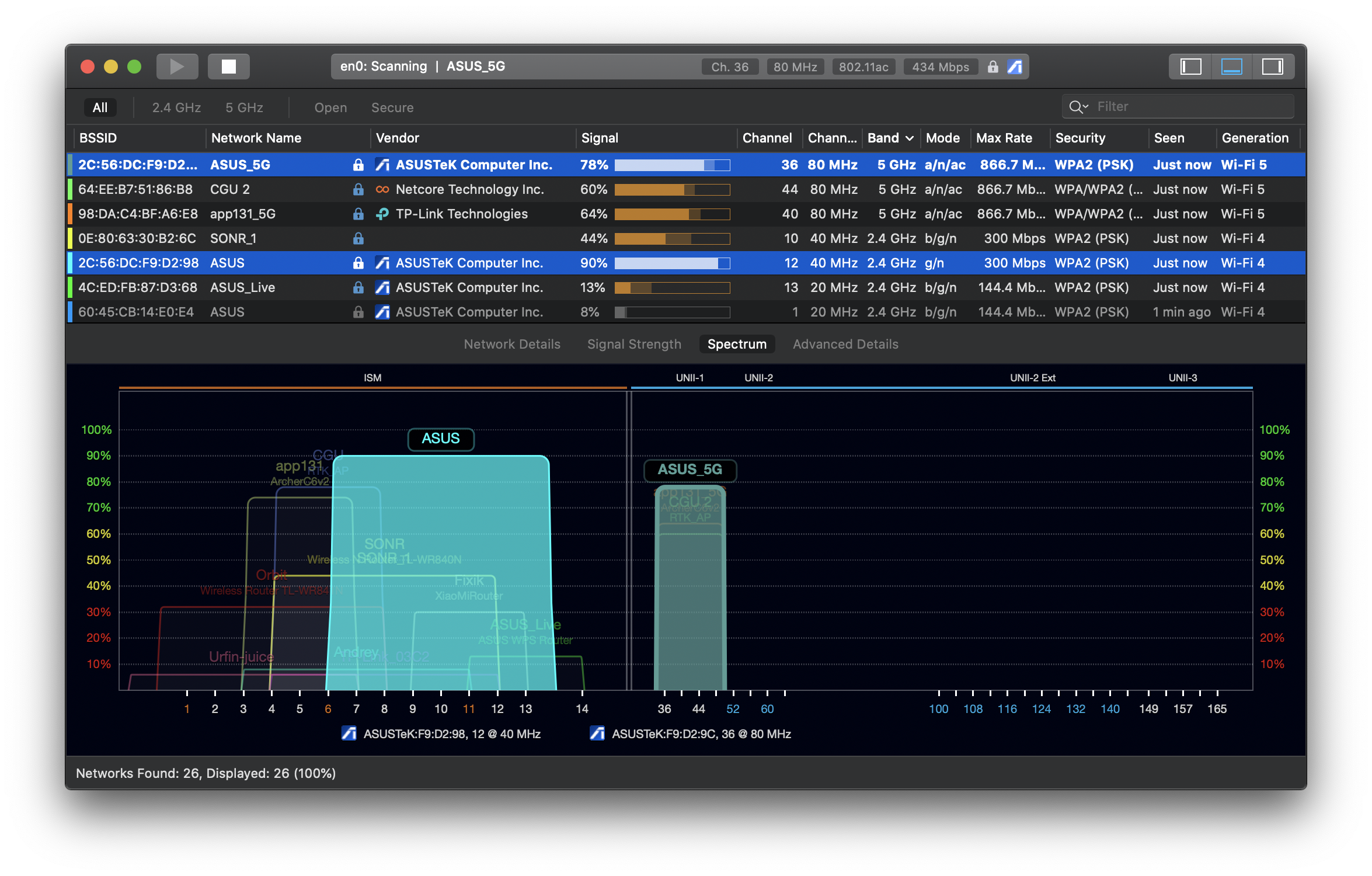 If you are looking for a wifi channel scanner online, there are no services we should recommend. Because wifi is a network connection, it is difficult to identify it from a remote location, and it really should be done locally.
How to change WiFi channel?
Channels 1, 6, and 11 are widely recommended for use in the United States because they do not overlap. But if you're on another channel, can you switch? Yes you can. Here's how.
Log in to your router first. To do this, enter the IP address of your router (or the address of the login web page of your router's administrator page), which is usually entered on your device. You can also find the IP of your router by going to System settings… > Network > Wi-Fi > Advanced… > TCP / IP.
On the router's IP page, enter your login and password for the router (hopefully you've changed it from the default administrator passwords entered on your device).
Go to the wireless settings for your browser, then Advanced if this option exists. Find the channels and click on the option to open the drop-down menu, then select the channel you want. Save changes.
---
In the wireless world, it is important to find the best wifi band and channel. Usually the ones available to you on your machine are the best options.
Discovering which ones are really the best can be difficult unless you don't have NetSpot or Wifi Explorer. Many times people change networks and hope for the best, but you can do better. Both NetSpot and Wifi Explorer display critical data about your WiFi networks, which is much smarter than trying to improve your connectivity in the dark.
We also like that NetSpot and Wifi Explorer are free! Both are included in a seven-day free trial of Setapp, the leading productivity package for your Mac. Setapp's growing library already consists of dozens of application titles that cover almost every possible use case. Design, development, email, news, education, finance – just that!
Friendly communicator. Music maven. Explorer. Pop culture trailblazer. Social media practitioner.