APPLE STOCK
Google Or Bing: Should Apple Switch Its Default Search Engine?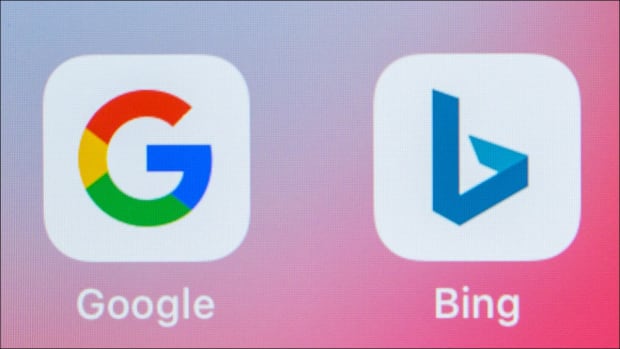 Apple may replace Google with Bing as its default search engine, leveraging Microsoft's competitiveness. But could user experience concerns overshadow potential revenue benefits?
Bank of America suggests Apple could switch its default search engine from Google to Bing, affecting all three companies significantly.
Alphabet pays Apple an estimated $20 billion annually for search revenue sharing, which could represent roughly 17% of Apple's operating profits.
Apple could leverage Microsoft's improved competitive position to negotiate better terms with Alphabet, but user experience risks may outweigh revenue gains.
---
One of the most recent sell-side research reports on Apple stock (AAPL) – Get Free Reportcame from Bank of America. On Tuesday, analyst Wamsi Mohan said that the Cupertino company "may switch out Google in favor of Microsoft as its default search option on its smartphones."
The move could have huge implications for all three companies. Below, I discuss (and, more importantly, ask): should Apple pull the plug on Google in favor of Bing?
Read more from The Apple Maven: Apple: Will India Be The Next Growth Engine?
Apple's Deal With Google: Big Money
To start, make no mistake: from a financial results perspective, this is a very important topic. Bank of America estimates that Alphabet (GOOGLE) – Get Free Reportpays $20 billion per year in the form of shared search revenue for the right to be the default search engine on Apple devices.
For reference, Apple produced revenues of $394.3 billion last fiscal year, suggesting that Alphabet's payments represent 5% of the grand total.
More importantly, I guess that almost all the $20 billion flows straight down to earnings, as Apple must have minimal costs associated with the Alphabet deal. If that is the case, we are looking at roughly 17% of Apple's entire operating profits for the year.
Apple Vs. Alphabet: More Bargaining Power
To be clear, Bank of America did not categorically suggest that the switch to Bing was imminent. Rather, the analyst pointed out that Microsoft (MSFT) – Get Free Reportis probably in a better competitive position today to fight Alphabet on search, especially after the ChatGPT integration.
In this case, Apple would probably have more bargaining power to demand better terms from Alphabet to keep Google as the default search engine on the 2 billion devices that represent Apple's installed base.
Don't want to play ball, Alphabet? Well, Microsoft probably does.
The True Cost For Apple
I like the setup: Alphabet's dominance in search may finally be challenged. Better competition favors Microsoft, Apple, and probably the consumer as the search product is likely to improve.
But I fear that disrupting the leader (Google owns nearly 90% of all search traffic, see chart below) may impact the user experience. Would Apple customers be dissatisfied by the change? Keep in mind, Apple's business model is centered on the consumer and their satisfaction.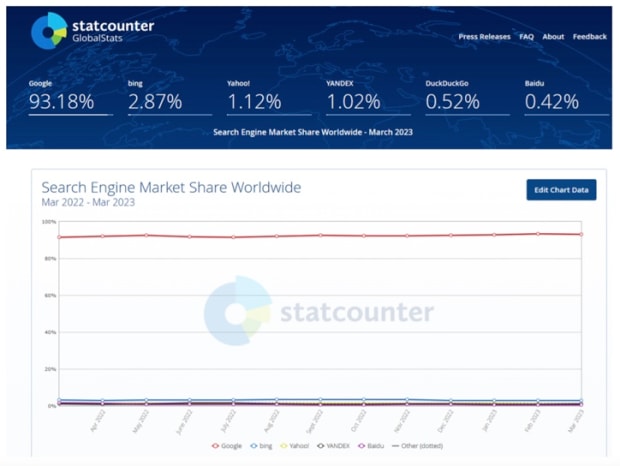 I suspect that the answer is no: loyalty for Apple would remain undisturbed even in the case of a shift in the default search engine. But at the same time, I am not sure that attempting to change the status quo for the sake of another few million dollars in revenues is worth the risk.
I am curious to hear from you. Leave your opinion below.
Ask Twitter About Apple
If Apple were to change its default search engine from Google to Bing, what do you think this would mean for user experience and customer satisfaction?
(Disclaimer: this is not investment advice. The author may be long one or more stocks mentioned in this report. The article may contain affiliate links, but these partnerships do not influence editorial content. The author may use AI tools, including OpenAI's ChatGPT, to create and summarize some of the article's content. Thanks for supporting Wall Street Memes.)
Friendly communicator. Music maven. Explorer. Pop culture trailblazer. Social media practitioner.