GADGETS
Facebook's smart glasses can be skipped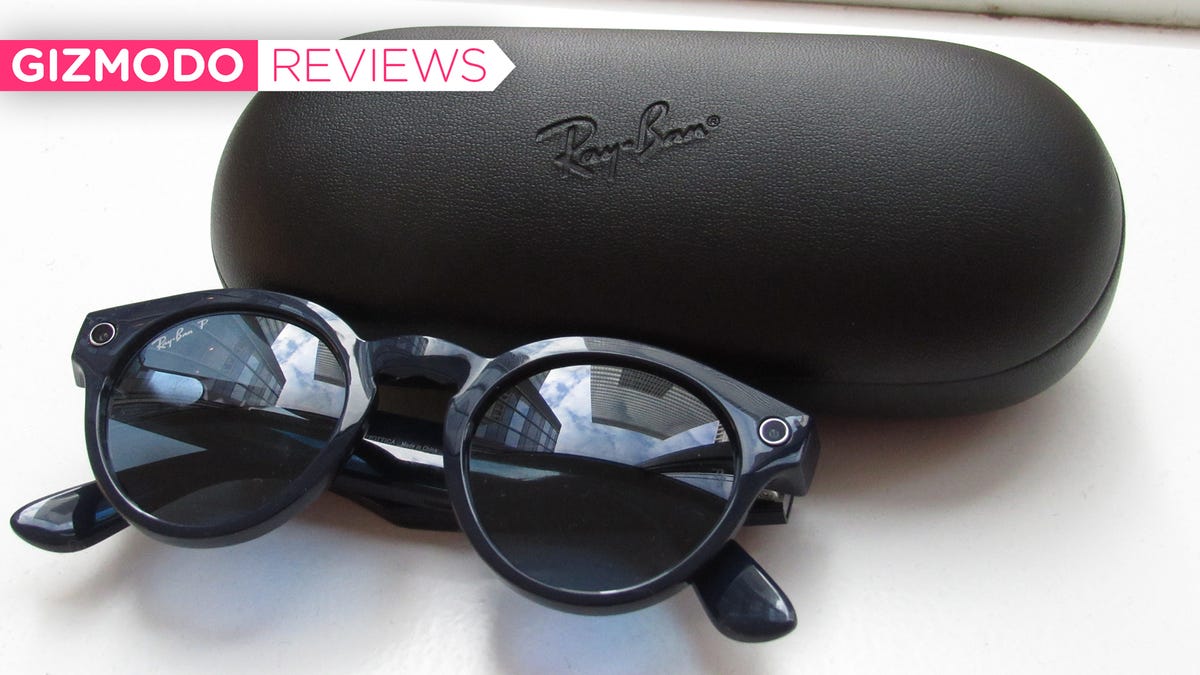 It would seem pretty hard to disrupt the cool-factor Ray-Ban – one of the most canonical sunglasses brands of all time, best known for its distinctive Wayfarer frames – but, impressively, Meta (formerly known as Facebook) only managed to do so by association.
After a long hype campaign and rounds and rounds rumors, Meta's smart glasses, Ray-Ban stories, are here. Locked and loaded with built-in cameras and speakers, the goggles are on par with other spy goggles currently on the market – they bear a particularly striking resemblance to Snap's Spectacles – and come in three distinctive lens shapes: Round, Meteor and Classic Wayfarer.
By now, everyone knows Ray-Ban stories essentially just Meta's soft launch for some kind of wearable augmented reality, which we will undoubtedly see at some point later. But unlike what those things will end up with, Stories isn't capable of AR – they're a bit more subtle GoPro.
There are more or less two types of people in this world: those horrified by the insidious potential of commercially available, hidden spy glasses made by Facebook to collect videos, and those who might be excited to finally have a way to get hands-free footage of all their daily activities. This second group – the influencer class, if you will – is the one that will most likely spend $ 299 on glasses, which allow you to shoot short videos up to 30 seconds, capture photos with built-in 5 megapixel camera lenses, and receive calls and play music through small speakers, which we will discuss in more detail below.
What if Ray-Bans … but also the camera

In our quest to create a line of fun, affordable smart glasses that combine the functionality of headphones, phones and cameras with a cool accessory, let's face it: Meta has achieved great results by achieving the Ray-Ban network. The glasses themselves — which, in addition to being available in three different shapes, can also be adapted to different colors and lenses, and can be issued on prescription — look really good, just like a regular Ray-Ban. I got to review the Round frames in blue, which is a shape that looks very much like Snap Spectacles (with almost exactly the same functionality, these two products have more than a common aesthetic).
Despite being a little firmer and heavier than your average pair of sunglasses might be, Stories wears very normally, and a few times I've caught myself forgetting that things on my face can be completely captured. The USB-C charging case that goes with the frames is also quite sleek, and I admit I was impressed with how well the frames fit inside. It took the case about an hour to charge my pair, which meant about three hours of battery life.
I'll give it to Ray-Ban Stories: For a pair of smart glasses that have a few good little tricks up their sleeve, all the touch-based controls are pretty discreet, with nothing weird poking out of nowhere to suggest to the untrained eye that this could be more than the average pair of sunglasses. The dual cameras fit quite seamlessly to the front of the frame, making them difficult to spot (more on that later), and a small switch on the hinge of the left hand drives the glasses. The speakers on each hand are located at the bottom of the frame, located just in front of where your ears curl when you wear them.
When the glasses are turned on, the button on the top of the right temple gives you the option to tap to take photos or hold to take up to 30 seconds of video. On the same hand, the drag bar allows you to move the volume up or down, and double-tapping the same area will allow you to answer and end phone calls. If you want to ignore the call, tapping and holding the same area will do it – although it seems easy to inadvertently double-tap to accidentally answer if you're not super diligent.
By the way, I'm someone who is really picky about small, delicate controls like these – in my opinion you can also find some kind of touch bar problem – but I have no objections to the buttons on Stories. The glasses are well made: taking photos is easier every time, the volume controls work properly, and it's easy to turn them on and off – and determine which mode is which.
Ease of shooting from your face without the use of hands
As for the actual media recorded in Stories, the quality of the photos and videos is good, but there is nothing to write about. 5-megapixel cameras do the job well enough, but you'll probably get a more satisfying photo if you do as we did in the old days and take out the old iPhone (iPhone 12 or 13 will definitely have better photo quality).
The composition of the photographs is a bit tricky, which is somewhat counterintuitive; in a way, this is what it would look like to use your literal eyes to take a photo. But somehow, in practice, it seems more complicated than using a camera, because there is no right way to frame a shot. Obviously, there is no way to account for light or movement as you could on a DSLR. Stories work best when you're shooting something still — something that doesn't necessarily have to be the most skillfully composed, balanced-color photo you're shooting this year.
Stories' dumbest feature is Facebook Assistant – yes, of course there is a voice assistant – which can be activated by saying "Hey Facebook", followed by a command. But like I said, the controls are easy enough to use – why would anyone bother with this? Maybe they bake a pie indoors with sunglasses and their hands are full of flour … or maybe this is a pathetic attempt by Facebook to remind any innocent passerby in range who made this gadget.
You need a Facebook account to use Stories and Facebook works collects data based on your use, but the company is very careful to note in the initial setup of the app that it only collects data that is "needed to make sure your glasses and apps are working properly." Facebook assistant, on the other hand, collects and sends your audio recordings to your home ship every time you use it. It's easy enough to disable and delete local files in Settings, and the opposite is true, as Facebook helpfully notes that if you want to share even more of your data, you can also use Settings to do so.
Facebook View – a companion app dedicated to importing and editing your images – is easy enough to use and makes it easy to set up your glasses. Synchronizing your shots is as easy as connecting to WiFi, and from there you'll find a small editing station where you can set up your photos. The controls are relatively rudimentary; similar to what your iPhone's photo editor can do, sliders allow you to adjust the brightness, saturation, warmth and focus of your images, and there's also the option to crop, enhance and add frames. Most importantly, Facebook also generously gives you the ability to upload your pictures to your phone's photo album, just in case you want to make an outrageous decision to share them on a platform other than Facebook or Instagram.
Fun for a music festival, scary on the playground
It's easy to see how hands-free shooting is an appealing perspective, but we can't talk about it without talking about the obvious creep factor associated with the possibility of covertly documenting your environment without anyone's permission or knowledge. Of course, you don't have to be a big freak and use glasses for evil; of course, there are a few subtle signs that could help innocent pedestrians realize that shooting is in progress (the white LED light turns on when you take photos, and the start tone signals that the glasses are activated). But walking around the city in broad daylight and testing the Story felt like a crime – and a very nerdy crime punishable only by a rough look and people avoiding me on the sidewalk.
However, in terms of ease of use, it's really great to be able to capture an image instantly while the moment unfolds in front of you, instead of having to go through the whole arduous process of reaching for the phone, opening the camera, framing the shot and pressing the shutter button. Ray-Ban stories are seconds faster. Obviously, this convenience award has only been afforded to those who wear their Ray-Ban, and although the brand makes clear frames, it's probably safe to assume that most people will buy them as sunglasses. Until we are able to fully engage in biohacking and install cameras in our retinas, it seems that the ability to instantly face capture will rely on some wearable hardware, and also, mostly, be outdoors in the sunlight.
At the end of the day, the inevitable reality of the Ray-Ban story is that you will seriously wear spy glasses made by Facebook. I assume that we will leave the privacy of others in the capable hands of a responsible and compassionate user base Stories and we hope for the best! Sarcasm aside, it is safe to say that there is great potential for abuse here, especially among users who are, say, under 16 years old.
Historically, people don't usually like to be filmed without their consent. When Google tried to make its Google Glass video recording something consumers can wear in public, the woman claimed she was attacked in front of a San Francisco bar for carrying pair (she also used glasses to record the attack, and later handed them over to the police) and the crowd European regulators have identified potential story privacy issues.
Although there is no publicly available data on the exact sales numbers of Stories, the latest earnings report from EssilorLuxottica, Ray-Ban's parent company, noted that Stories "started with promising sales data and gave online business an extra boost." Whether that means people are really serious about buying Ray-Ban stories remains to be seen.
For influencers looking to find new ways to capture small, honest moments of their lives, Ray-Ban stories are an intriguing – and modern – way to do so. But for everyone else, this will be more or less a hit, like a general lack of enthusiasm around smart glasses seems to confirm. You'll get better quality photos if you shoot with your phone or camera, and you'll get the same accessory cheaper if you just buy plain old Wayfarers. Also, you will have the added bonus of not looking like a clown walking around the city and secretly shooting people with your glasses.
Friendly communicator. Music maven. Explorer. Pop culture trailblazer. Social media practitioner.