GADGETS
Company printers receive spam from the Anti-Work Manifesto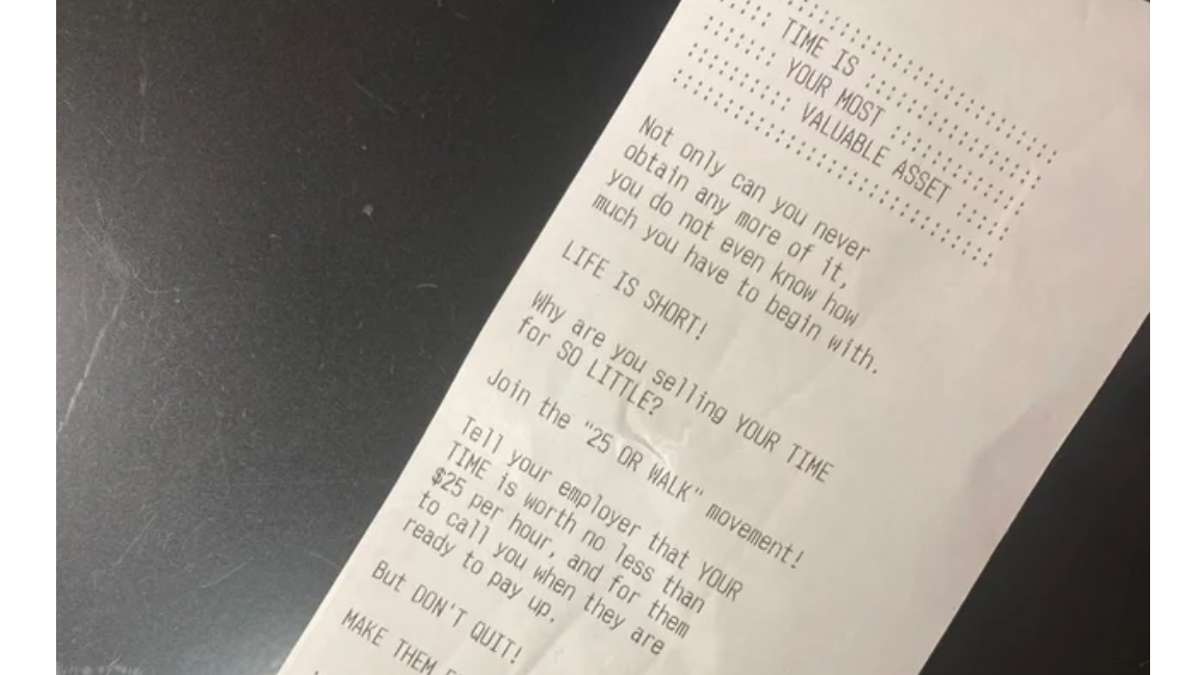 Some hackers really take it whole "Great resignation"It's pretty serious." According to a new report from the motherboard, "dozens" of companies' Invoice printers receive spam with "work protection" shirts – like them, they encourage employees to tell their bosses to go for a walk.
In the past few days, a lot of pictures have been published on Reddit, which seem to show long bills written with the same pro-Soviet, anti-capitalist rhetoric. Many of them refer to r / antiwork, an increasingly popular anti-work subreddit, and encourages workers to oppose their employers over wages and benefits.
"TIME IS YOUR MOST VALUABLE PROPERTY" says one receipt, before encouraging employees to force their bosses to fire them – supposedly so they can get a job and enjoy time with their friends and family. "ARE YOU PAID A LITTLE?" Another asks. "Start ORGANIZING A TRADE UNION," one seems to warn.
Some accounts also mention "25 or walk"—What seems like an activist movement focused on raising the minimum wage for fast food workers Number of posts on r / antiwork calling for movement and its goal of raising the living standard of workers.
While this certainly seems like a joke on social media, Lorenzo Franceschi-Bicchierai of Motherboard spoke with a cybersecurity expert who said they saw pretty good evidence that the bills were real.
G / O Media may receive a commission
"Some people are using a similar technique as 'mass scanning' to massively break raw TCP data directly into printer services across the Internet," said Andrew Morris, founder of the cybersecurity firm. GrayNoise. Morris further clarified that someone "broadcast requests to print a document containing messages about workers' rights to all printers that were misconfigured to be exposed to the Internet, and we confirmed that it was successfully printed in some places."
In layman's terms, printers exposed to the Internet are becoming the target of someone with these printing requirements, according to Morris.
He further added that it was "the correct number." [of printed receipts] it would be difficult to confirm, "although he saw evidence that" thousands of printers were exposed "in a way that would make them vulnerable to demands.
Pretty wild. Whether the whole thing is the work of a pro-Labor activist or is really just some intelligence agency messing with the world's fast food chains, it's at least a thought-provoking exercise. Long live the revolution.
Friendly communicator. Music maven. Explorer. Pop culture trailblazer. Social media practitioner.