APPLE STOCK
Apple Stock: Why Warren Buffett Loves It, According To One Analyst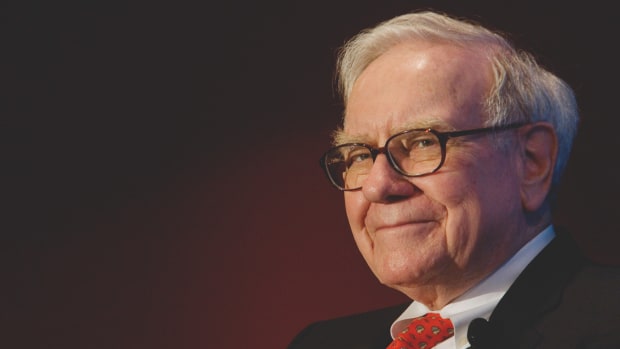 Buffett's $146 billion AAPL stake reflects the company's leading position, diversified business model, and strong financials, which seem to fit Berkshire Hathaway's investment criteria well.
Warren Buffett's $146 billion Apple investment can be justified by leading market positions, strong capital return, and "reasonable" valuations that make it attractive for Berkshire Hathaway.
Buffett's key criteria align well with an investment in Apple stock: understandable business model, high-quality management team, strong financials, and "buy the dip" approach to value investing.
---
Through its financial conglomerate Berkshire Hathaway (BRK.A) – Get Free Report (BRK.B) – Get Free ReportWarren Buffett owns a whopping $146 billion worth of Apple stock (AAPL) – Get Free Reportat today's price.
Old timers like me remember the days when the Oracle of Omaha wouldn't touch tech stocks with a ten-foot pole. Today, AAPL alone represents nearly 40% of Berkshire's portfolio.
The apparent contradiction has been recently addressed by Bernstein's Toni Sacconaghi, an analyst who currently has a price target of only $125 on AAPL for 22% downside risk. Below, we dive deeper into the subject.
Why Buffett Loves AAPL
Mr. Sacconaghi's take on the matter can be summarized as follows: Apple fits Buffett's investment criteria well. More specifically, Apple has "leading positions and share, recognizable brands, strong capital return programs, and 'reasonable' valuations."
The analyst goes further by noting that Apple is a "leverageable consumer company". That is, the business model is not limited to the sale of hardware or software, as is the case with many other tech companies.
Instead, Apple can seamlessly transition from the device world, a space in which the Cupertino company has become an even larger player recently, to the services arena. Wedbush's Dan Ives, for example, estimates that the services segment alone is worth $1.3 trillion, about half of Apple's total market cap.
The Apple Maven's Take
Forget the "tech" label for a moment. Across most of Warren Buffett's key criteria for investing in a company and stock, Apple checks nearly all the boxes.
Buffett is known for investing in companies that he understands. Maybe more than a tech company, Apple is a consumer powerhouse. Nearly three-fourths of its revenues came from the sale of iPhones, iPads and Macs in fiscal 2022 that are in high demand by an increasingly mobile society. There isn't anything overly complicated about this business model.
Second, Buffett appreciates high-quality management teams with a strong track record and a history of rewarding their shareholders via dividend payments and buybacks. I believe that Tim Cook and his crew meet these criteria easily.
Thirdly, strong financials, particularly low leverage and high margins, is a must for the Oracle of Omaha. Apple boasts one of the most enviable P&L profiles in tech ex-software, with gross and op margin of 43% and 30% last year, respectively, and a net cash balance of roughly $50 billion.
Finally, the most interesting factor, in my opinion: Buffett is a value investor at heart. This is where AAPL could look like an odd fit in Berkshire's portfolio. Apple stock currently trades at a current-year P/E of nearly 27x, rich compared to AAPL's history and the S&P 500's ratio today.
In his communications with the press, the famous investor seems to take a "buy the dip" approach to investing in the Cupertino company. This is consistent with my observations that buying AAPL on weakness can be a great idea – at least it has, historically.
Maybe relative price action, more so than comps or DCF analyses, is all that Warren Buffett needs to decide whether to hold his current Apple stock position or back up the truck for more.
(Disclaimer: this is not investment advice. The author may be long one or more stocks mentioned in this report. The article may contain affiliate links, but these partnerships do not influence editorial content. The author may use AI tools, including OpenAI's ChatGPT, to create and summarize some of the article's content. Thanks for supporting the Apple Maven.)
Friendly communicator. Music maven. Explorer. Pop culture trailblazer. Social media practitioner.