APPLE STOCK
Apple Stock: What Happens To Warren Buffett's Position In 4Q?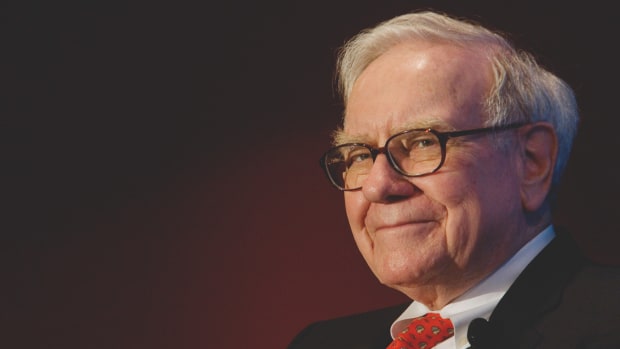 Warren Buffett's Berkshire Hathaway investment conglomerate remains bullish on Apple stock, despite its holding falling to its lowest level in ten quarters. Here's what investors should know.
Berkshire Hathaway remains highly bullish on Apple despite its allocation to the stock falling to the lowest level in ten quarters.
The decrease in AAPL's percentage of Berkshire's portfolio is due to a 27% drop in share price, not a reduction in the number of shares held by the conglomerate.
Berkshire's top five holdings (AAPL, BAC, CVX, KO, and AXP) account for over 75% of the portfolio's capital, with the remainder in the "all others bucket," which includes a significant increase in ownership in Paramount Global.
(Read more from the Apple Maven: Apple vs. Alphabet vs. Meta: Which Tech Stock Is The Best Value?)
Buffett: The Same AAPL Bull
Berkshire Hathaway (BRK.A) – Get Free Report (BRK.B) – Get Free Report, Warren Buffett's investment conglomerate, disclosed its Q4 holdings on February 14, after the closing bell. The firm is known for being a large holder of Apple (AAPL) – Get Free Reportstock, at nearly 6% of the Cupertino company's total equity.
Relative to the rest of the portfolio, Berkshire's Apple stake is at the lowest level in ten quarters: 39%. At one point, in December 2021, AAPL accounted for 48% of the conglomerate's portfolio. See the chart below, particularly the orange dots.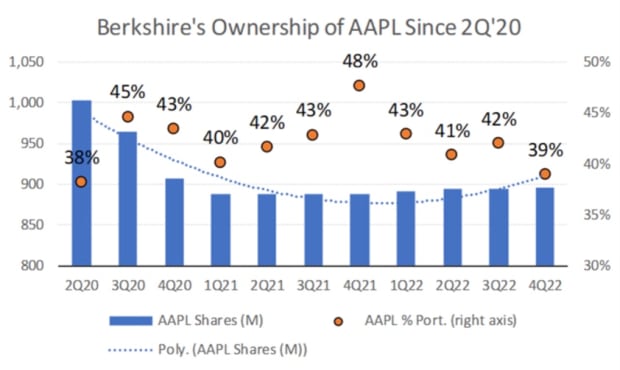 At first glance, these numbers make it look like Buffett and the team could be trimming their Apple position. But this is not at all the case. In fact, Berkshire owned 895.1 million shares of Apple stock at the end of December, about 300,000 more quarter-over-quarter.
The "optical illusion" of lower portfolio allocation YOY is due to the value of Apple stock. The share price sank 27% in 2022, making Berkshire's fairly stable position in AAPL less valuable. The rest of Berkshire's portfolio did not perform as badly last year.
How AAPL Fits Into Buffett's Portfolio
The 39% allocation to Apple stock suggests that the Oracle of Omaha is still highly bullish on shares of the iPhone maker. In fact, AAPL alone represents more of Berkshire's portfolio than the next top four holdings combined. See the pie chart below.
Speaking of top holdings, Berkshire Hathaway's five biggest positions are, in order of size: Apple (39%), Bank of America (11%), Chevron (10%), Coca-Cola (less than 9%) and American Express ( less than 8%).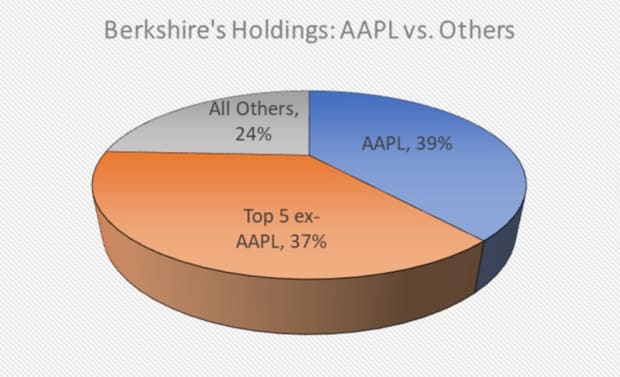 The top five stocks account for over three-fourths of the portfolio, suggesting that Berkshire is highly concentrated. Still, there seems to be enough of a balance across tech and consumer discretionary (AAPL), financial services (BAC and AXP), staples (KO), and energy (CVX).
In the "all others bucket", which adds up to less than one-fourth of the portfolio, Paramount Global stands out. The parent company of CBS, Showtime, and Comedy Central saw Berkshire increase its ownership in the media conglomerate by 2.4 million shares in Q4 or about $55 million in today's market value.
(Disclaimers: this is not investment advice. The author may be long one or more stocks mentioned in this report. The article may contain affiliate links, but these partnerships do not influence editorial content. The author may use AI tools, including OpenAI's ChatGPT, to create some of the article's content, particularly summaries. Thanks for supporting the Apple Maven.)
Friendly communicator. Music maven. Explorer. Pop culture trailblazer. Social media practitioner.