APPLE STOCK
Apple Stock Rides High: Microsoft And Alphabet Ignite Market Enthusiasm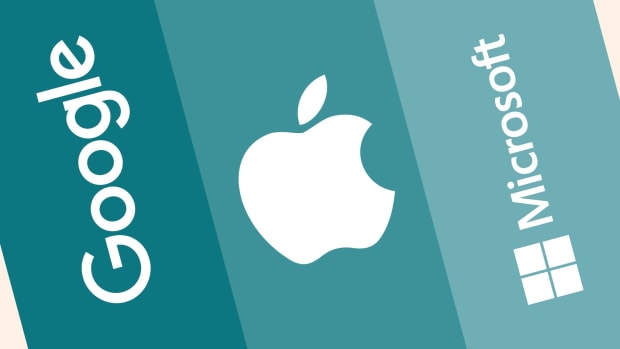 Microsoft and Alphabet's Q1 earnings beat expectations, fueling optimism for Apple's earnings report and suggesting strength in the Mac and services segments amid tech spending resilience.
Microsoft and Alphabet exceeded calendar Q1 revenue and earnings expectations, boosting their shares and Apple stock (AAPL) – Get Free Reportin after-hours trading.
Microsoft's strong personal computing sales and Alphabet's online advertising performance may indicate a positive outlook for Apple's Mac and services segments.
AAPL traded higher in after-hours by 0.5%, the equivalent of $13 billion in market cap.
---
Many had been concerned about the Q1 earnings season calendar. In fact, the S&P 500 shed 1.6% on Tuesday, May 25, on the back of ill-received earnings reports by mega-cap companies ($150 billion-plus market cap) UPS and Danaher.
But after the closing bell, Big Tech came to the rescue. Microsoft (MSFT) – Get Free Reportand Alphabet (GOOGLE) – Get Free Reportdelivered outstanding calendar Q1 results that sent their shares and even Apple stock higher in after-hours trading.
The good news delivered by Apple's peers may transcend a mere one-day pop in share price. It could foretell a stronger-than-expected quarter for the Cupertino company itself.
Don't miss: Apple Earnings Preview: Mac Under Pressure
Microsoft and Alphabet Shine In Q1
Both Microsoft and Alphabet topped Wall Street's expectations on revenues and earnings. The former, which reported its fiscal Q3, beat consensus by the widest margin since mid-2021.
Microsoft's top-line surprise came primarily on the back of the PC segment, as Microsoft delivered $1 billion more in sales than the high end of its guidance range. This could be good news for Apple's Mac business, as the space may not be as challenged as previously thought.
The other piece of Microsoft's business that looked great was productivity and business processes, with the commercial vertical looking particularly strong.
While Apple is much more exposed to the individual consumer, Microsoft provided evidence that tech spending remains healthy ahead of what many expect to be a period of economic deceleration – if not a recession.
Alphabet, on the other hand, delivered its first EPS beat in the past five quarters. As a refresher, online advertising represented nearly 80% of the company's total revenues last quarter.
Some of the after-hours gains in Alphabet stock might be associated with the $70 billion increase in share repurchases – a company-specific factor that has little to do with Apple or the rest of the peer group. But the Mountain View-based company also impressed in other ways.
Google search and YouTube revenues collectively grew by only +1% YOY. But considering fears about decreased ad spending in 2023, the results can be celebrated. I estimate that Wall Street expected total revenue growth ex-cloud to land at around -1%.
This can be good news for Apple's services segment. Alphabet pays Apple an estimated $20 billion per year in shared ad revenues for the right to be the default search engine in iOS and other Apple operating systems.
Apple's Earnings Day: Looking Less Risky
In summary, Microsoft and Alphabet sent a clear message on April 25: Big Tech is doing just fine, at least for now. Commercial activity seems to be in a good place, with ad, cloud and PC spending looking particularly robust relative to expectations.
Both companies' results may suggest that Apple's own earnings report could surprise to the upside. This is particularly true of Apple's services and Mac division, in my opinion.
Not surprisingly, Apple stock traded higher in after-hours by 0.5%, the equivalent of $13 billion in market cap.
(Disclaimer: this is not investment advice. The author may be long one or more stocks mentioned in this report. The article may contain affiliate links, but these partnerships do not influence editorial content. The author may use AI tools, including OpenAI's ChatGPT, to create and summarize some of the article's content. Thanks for supporting Wall Street Memes.)
Friendly communicator. Music maven. Explorer. Pop culture trailblazer. Social media practitioner.