APPLE STOCK
Apple Stock Catches The Updraft in 2023: Goldman Sachs Predicts Bullish Future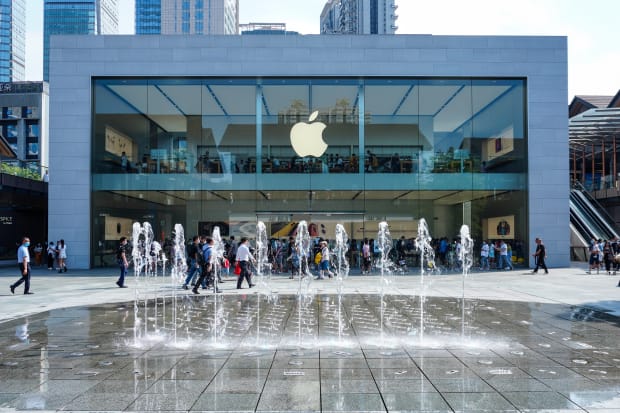 Goldman Sachs' optimistic outlook on Apple's future rests on factors beyond its massive iPhone business, including new product innovation and margin expansion driven by services.
Apple stock has been on an upward trend in 2023 and now trades again near the six-month peak of $155.
Goldman Sachs recently released a bullish initiation report on AAPL, with a price target of $199 that suggests 30% gains ahead.
The thesis is based on the potential of new product innovation, margin expansion, and the growth of the company's services segment.
---
Apple (AAPL) – Get Free Reportstock has just caught yet another updraft in 2023.
The share price increased from $125 at the beginning of the year to $155 before pulling back $10. Now, AAPL is pushing against the six-month ceiling again, following a bullish 96-page-long initiation report by banking powerhouse Goldman Sachs on March 6.
Goldman's History With AAPL
Goldman Sachs has a long-standing history with Apple. For a few years, its research team became known as one of the few Apple stock skeptics on Wall Street.
The firm had an unfavorable view of the Cupertino company's equity until April 2021, when the rating was finally upgraded from sell to neutral — late enough to miss out on most of the massive post-pandemic bear recovery.
However, Goldman's coverage of Apple is now led by Michael Ng, who sees AAPL shares heading to $199 in the foreseeable future. This price target is only shy of Tigress Financial's $210, by far the most optimistic bull in sell-side research.
(Read more from the Apple Maven:Apple Stock: Will These 5 Catalysts Really Spark A Rally In 2023?)
The Pillars Of The Bull Thesis
According to Seeking Alpha, the new analyst's investment thesis is supported by "the installed base growth, secular growth in services, and new product innovation [that] should more than offset cyclical headwinds to product revenue."
This is an interesting bull case, since it does not rely on the success of the iPhone — Apple's massive $200-billion-per-year business that represents over 50% of total revenues and tends to be near the center of every bullish call on Wall Street.
The service business, despite accounting for "only" 20% of total company sales, generated about one-third of total operating profits in fiscal 2022. Goldman likes this business, which is supported by a global installed base of around 2 billion devices.
However, the segment has been spitting out revenue growth rates of less than 10% in the past couple of quarters, making some wonder if this cash cow might be facing meaningful challenges. See chart below.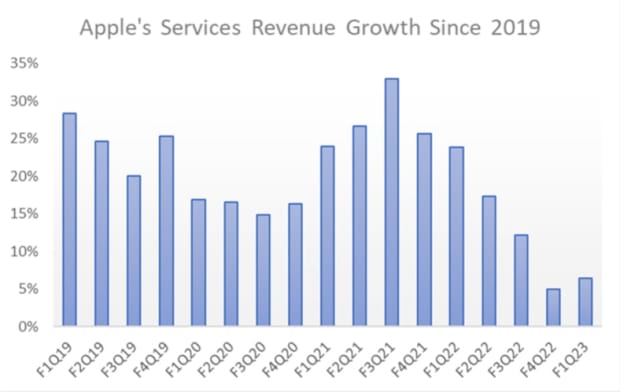 Goldman's mention of new product innovation is also interesting. Apple is widely expected to release new products (and probably services) around mixed reality and autonomous vehicles in the next three to five years.
As we explained recently, it is hard to tell how accretive to earnings these initiatives will be, even if they open up a brand-new set of markets for the Cupertino company. Clearly, Goldman Sachs is optimistic about what lies ahead.
Finally, the bank highlights margin expansion as a positive, largely driven by what it expects to be a heavier mix of high-margin service revenues. Goldman projects that the service segment will be responsible for 40% of Apple's operating profits in 2027, up from the one-third in 2022 mentioned above.
Conclusion: 30% Upside Ahead in AAPL
In summary, Apple's share price has been performing well in 2023, with a price target of $199 predicted by Goldman Sachs representing a gain opportunity of around 30%. This is supported by the installed base growth, secular growth in services, and new product innovation, which is expected to more than offset cyclical headwinds to product revenue.
While some may be worried about the service segment's slow revenue growth rates, Goldman seems much more confident. Its optimistic outlook on Apple's future product innovation alone may be enough to offset these concerns.
(Read more from the Apple Maven: Apple Stock: Is March A Good Month To Invest?)
Ask Twitter
Goldman has just initiated on Apple stock with a bullish price target of $199/share – and the iPhone is not even the main character in this story. Which of the bank's key pillars of the bull thesis below are you most excited about?
(Disclaimer: this is not investment advice. The author may be long one or more stocks mentioned in this report. The article may contain affiliate links, but these partnerships do not influence editorial content. The author may use AI tools, including OpenAI's ChatGPT, to create and summarize some of the article's content. Thanks for supporting the Apple Maven.)
Friendly communicator. Music maven. Explorer. Pop culture trailblazer. Social media practitioner.