APPLE STOCK
Apple Earnings Preview: China Could Be Crucial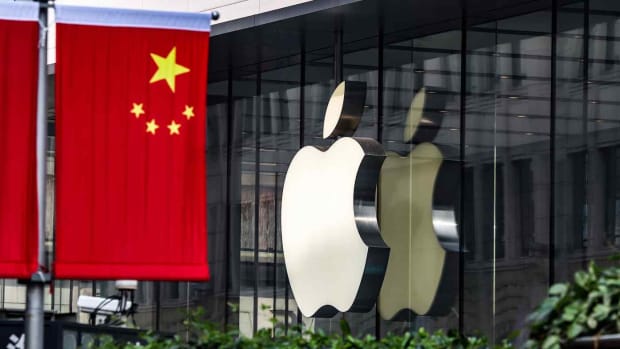 As Apple's earnings hinge on Greater China's volatile consumer market, will easing COVID-19 restrictions support revenues and boost Apple stock in fiscal Q2?
Greater China's volatility affects Apple's earnings. The region represents one-fifth of total revenues and accounted for one-third of the growth in fiscal 2021.
China's economic struggles, including flat consumer prices and COVID-related factory closures, have led to near-zero revenue growth in the past year for Apple.
Apple stock (AAPL) – Get Free Reportmay benefit if China sales rebound in fiscal Q2, as COVID-19 restrictions ease, and workers return to offices and factories.
---
We are getting very close to Apple's earnings day, scheduled for Thursday, May 4. This will be one of the last articles in the Apple Maven's earnings preview series. I have been compiling a summary of all previous reports here.
Today, we focus on a particular geographic segment that could make a difference in fiscal Q2: Greater China. Also, don't forget to follow our coverage of Apple's earnings event via live blog, which starts at 4 pm EST on Thursday, May 4.
Read more: Apple Earnings Preview: Can Services Push Shares Higher?
Greater China: Apple's Most Volatile Market
Greater China is easily the most volatile of Apple's geographic segments. What I mean by it: when it comes to quarterly growth, the region has historically produced some of the largest and some of the smallest numbers reported by the Cupertino company.
The chart below shows one standard deviation of the growth rate of each geo segment since early fiscal 2019. This is a statistical metric that gives us an idea of ​​how much the growth rate can be reasonably expected to swing from period to period.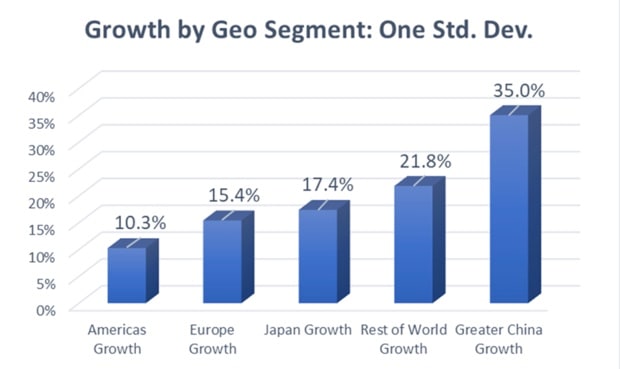 The 35% depicted above for Greater China effectively means that, if the average YOY revenue growth in the region is 10% (which it is, roughly), it would be "normal" for it to reach either +45% or -25% on any given period. That is: Apple's China business has been all over the place.
Keep in mind that investors do not like risk, volatility, or uncertainty. I would argue that doing business in a market that is so unpredictable puts a drag on stock valuation – although my thesis is nearly impossible to prove or disprove quantitatively.
This would not be much of a problem if Greater China were not an important consumer market. But in fiscal 2022, the region represented almost one-fifth of Apple's total revenues.
In fiscal 2021, China's revenues grew by $28 million and accounted for nearly one-third of Apple's entire growth for the year.
China's Economic Woes
While most of the world faces what could be the tail end of an inflationary period and fears of a recession ahead, China may have already turned that corner.
Consumer prices in the country have been virtually flat YOY. The economy does not seem to be firing on all cylinders, following a wave of COVID-related factory closures that lasted until recently.
The country's recent struggles seem reflected in Apple's numbers. The chart below shows that Greater China's revenue growth has been hovering around zero (-7% to +6%) in the past twelve months, following an outstanding fiscal 2021.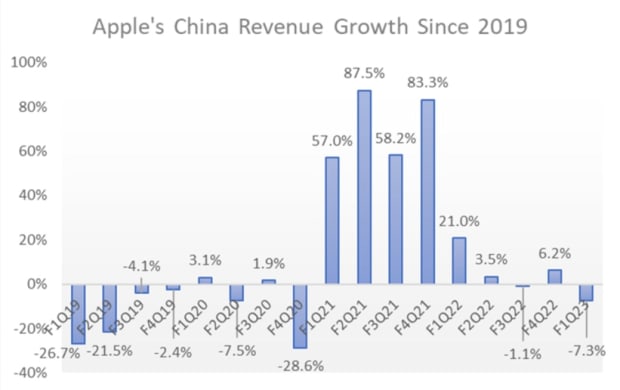 Last quarter, Greater China sales further suffered from adverse FX movements. But even on an ex-FX basis, the region did not impress much. On the services side, for example, China was one of the only key markets not to produce all-time revenue records.
How Apple Stock Could Benefit From China
The bad news is that Greater China has been facing some of the challenges highlighted above. The good news is that expectations might be de-risked enough. Should sales in the region rebound in fiscal Q2, Apple stock could benefit.
This could be the case because the zero-tolerance policy on COVID-19 in the country has been relaxed. Workers have been able to return to the offices and factories. The Chinese New Year holiday is behind us.
CEO Tim Cook provided some color on how the region has performed in the few weeks prior to fiscal Q1 earnings. According to the executive:
"When you look at the opening that started happening in December, we saw a marked change in traffic in our stores as compared to November. And that followed through to demand as well."
Ask Twitter About AAPL
Which of the following geographic segments has the greatest potential to surprise Apple investors and analysts in fiscal Q2, in your opinion?
(Disclaimer: this is not investment advice. The author may be long one or more stocks mentioned in this report. The article may contain affiliate links, but these partnerships do not influence editorial content. The author may use AI tools, including OpenAI's ChatGPT, to create and summarize some of the article's content. Thanks for supporting Wall Street Memes.)
Friendly communicator. Music maven. Explorer. Pop culture trailblazer. Social media practitioner.