HARDWARE
AMD Ryzen 7040U Phoenix CPUs Bring Zen 4 And RDNA 3 Graphics To Ultralight Laptops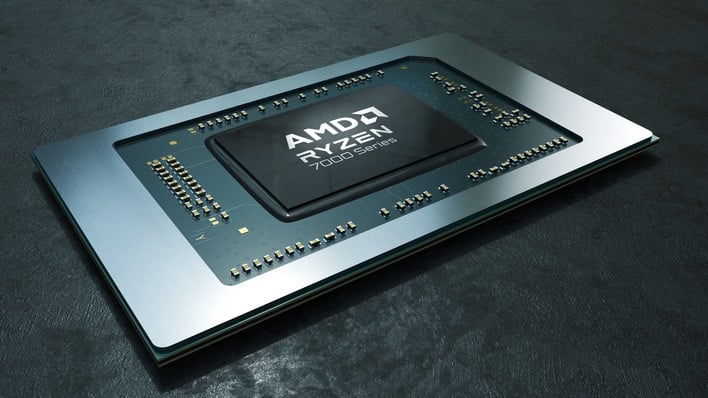 It wasn't really all that long ago that the concept of a high-end laptop sporting an AMD CPU was a laughable proposition. Now, the company is downright competitive with Intel's finest, at least on the high end. For laptops with a lower power limit than AMD's Ryzen 7045 series can serve, AMD has the monolithic Ryzen 7040U series, releasing today.
That's right: these processors will be the second wave of Phoenix-based chips to hit the market. Introduced this year at CES, the Ryzen 7040 series are a family of what would have once been called "APUs": These are SoCs that spring for a balance of CPU and GPU performance, versus the heavily-CPU-oriented Ryzen 7045HX family codenamed " Dragon Range."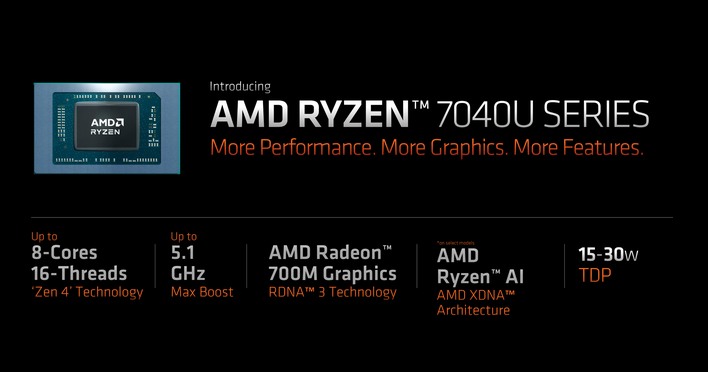 Specifically, the models launching today come with a "U" suffix, indicating that they are typically configured for a lower power limit than the thirstier 7040HS processors that were announced at CES. Those are already available, by the way; you can actually buy one right now, like this ASUS ROG 14″ model with a Ryzen 9 7940HS and a 165-Hz display over at Best Buy. Lenovo's Legion Slim 7 should be available any day now, too.
Just like with the "HS" processors, on the 7040U series you get between four and eight Zen 4 CPU cores clocking as high as 5.1 GHz, up to six RDNA 3 workgroup processors (12 CUs), and an AMD XDNA AI accelerator, all packed into a TDP as low as 15W, at least for these first "-U" models. Actually, while AMD hasn't said as much, this is almost assuredly the very same silicon found in the Ryzen Z1 chips aimed squarely at handheld PCs.
So, before we start looking at AMD's claims concerning these CPUs' efficiency and performance, let's take a look at the actual models that are being announced today. AMD has four new parts for your perusal, laid out next to the extant "HS" parts in the chart below:
Compared to the Ryzen 7040HS processors, these -U models drop quite a bit of base clock rate: from 3.8 GHz on the Ryzen 7 7840HS down to 3.3 GHz on the Ryzen 7 7840U, and from 4.3 GHz on the Ryzen 5 7640HS down to 3.5 Ghz on the Ryzen 5 7640U. That's going to have an effect on their multi-core performance, but the boost clocks barely change, which means that the day-to-day experience of using one should be quite similar.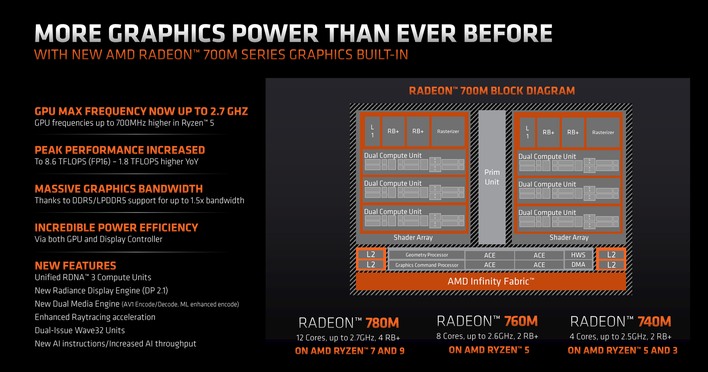 There are bigger differences than just that, though; the -U-series processors also drop half or more of their L3 cache, from 32MB down to just 16MB on most models, and only 8MB on the Ryzen 3 7440U. Additionally, the lower-end 7040U chips start to lose significant portions of their GPU horsepower. Besides the obvious drop in compute units, all but the Ryzen 7 7840U lose half of their render backend, too.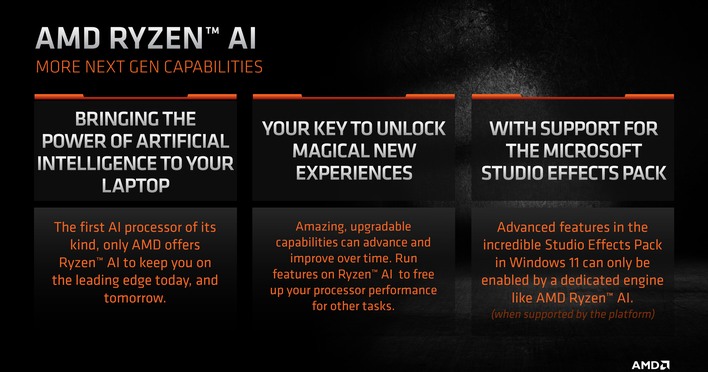 Finally, only half of the 7040U series gets to keep its XDNA-based Ryzen AI co-processor. The "X" in XDNA stands for Xilinx, of course, and while it's not completely clear what the capabilities of the on-chip AI processor actually are, AMD says that Windows 11's Studio Effects Pack—a set of filters and effects you can apply to videoconferencing calls—can be accelerated by Ryzen AI to save CPU or GPU time.
The biggest change, of course, is the drop in TDP: the Ryzen 7040HS models were spec'd for power ratings between 35 and 54 watts, but the -U series here starts at 15 watts and caps off at just 30. We'd be remiss if we didn't point out that "-U" as a designation is usually reserved for processors towards the bottom of that range, but AMD itself tacitly acknowledges this by comparing these CPUs against a 25-watt Intel CPU, the Core i7 -1360P.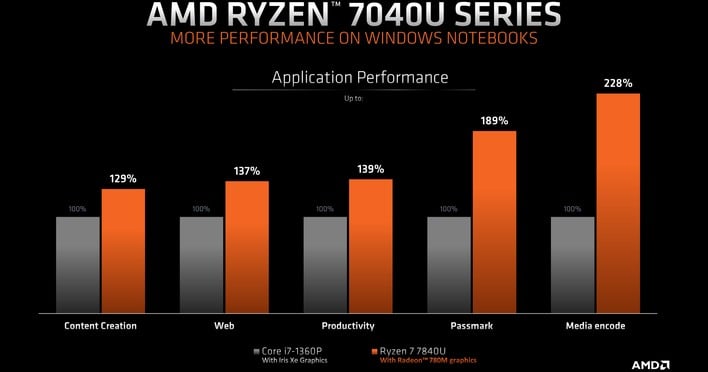 In that match-up, AMD claims to be between 29% and 128% faster than the Intel CPU. That's when comparing the top-shelf Ryzen 7 7840U against Intel's chip. But what about the power-efficiency whiz kids over at Apple? How does it compare against the ARM competition?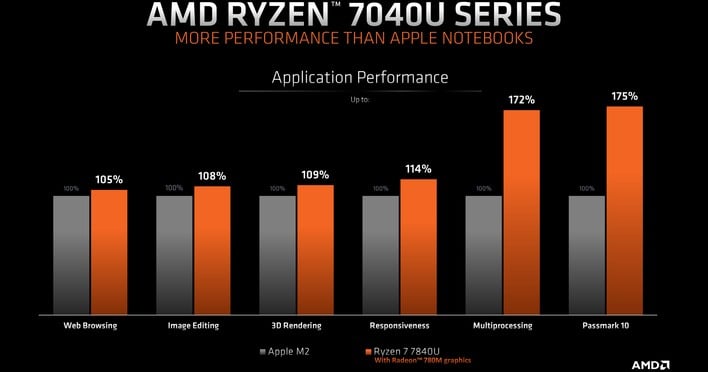 Pretty favorably, at least according to AMD's own numbers. In the company's testing using Cinebnech R23, Passmark 10, Mozilla Kraken, PugetBench, and Blender, its new chip consistently racks up wins against last year's Apple part, particularly in Cinebench and Passmark. Not a bad showing, although AMD doesn't say what TDP configuration was used for testing. Apple's part has a 20W TDP.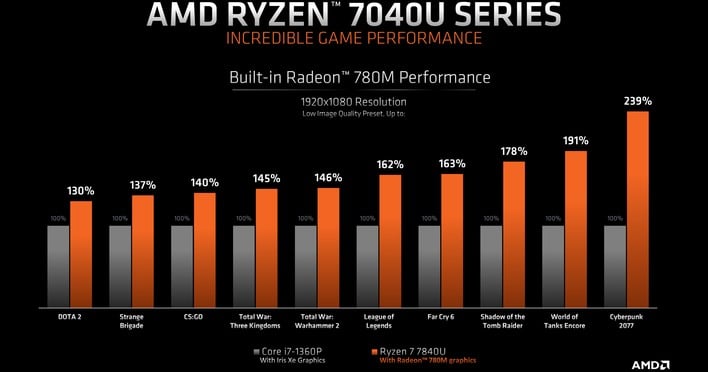 Of course, it wouldn't be an AMD launch without a mention of game performance. AMD's APUs have always offered astonishing graphics performance, at least as far as integrated graphics go. The company doesn't provide any hard numbers on game performance, but does offer this slide showing the Radeon 780M offering a sound thumping to the Iris Xe graphics inside a Core i7-1360P despite the fact that they have the same number of shaders.
That's no particular surprise considering that the Radeon 780M runs at nearly double the Iris Xe's 1.5 GHz clock rate, and also in light of AMD's superior graphics drivers. We obviously haven't gotten our hands on any Phoenix hardware yet, but we've tested the RDNA 2-based Radeon 680M and come away flabbergasted at its competence in native 1080p—and we weren't testing "Low" settings, either. An RDNA 3 update on that part sounds like it should be a winner.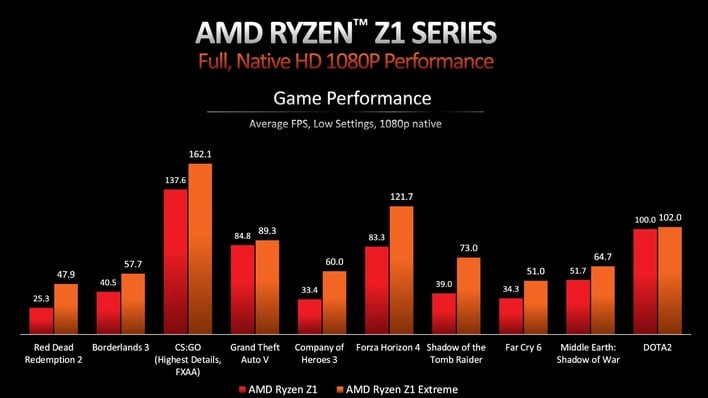 Since AMD declined to disclose any hard details on how the Ryzen 7040U series handles games, we dug up this slide from the recent launch of the extremely-similar Ryzen Z1 processors. These numbers surely aren't representative of how a Ryzen 7 7840U or Ryzen 5 7540U will perform, but they're probably not far off given the extremely-similar hardware inside.
It's interesting to note that, in many of the tested titles, the Ryzen Z1 performs within striking distance of the Z1 Extreme despite having just a third of the GPU compute and half the rasterization power at hand. It's very likely that the Extreme part is running up against a memory bandwidth limitation—the scourge of the integrated graphics gaming machine. Hopefully vendors will attach quick memory to any machines sporting Phoenix APUs.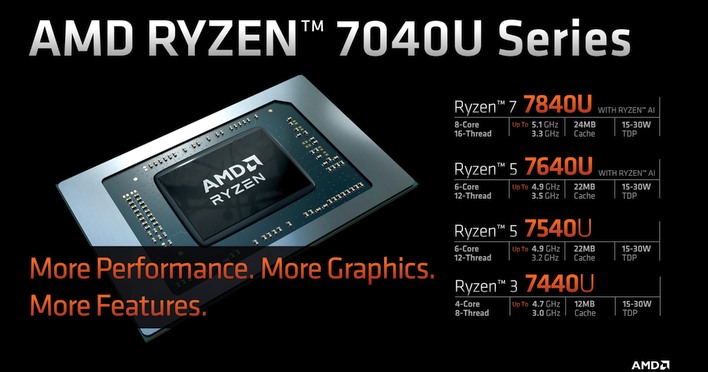 Speaking of which, we're expecting to hear about many such machines any day now. AMD slightly delayed the announcement of these processors, and we expect that this is to allow the company's partners to get more products ready. So saying, we'll probably have press releases in our inboxes sooner than later, so if you're itching for an ultraportable with a new Ryzen CPU, keep your eyes right here.
Friendly communicator. Music maven. Explorer. Pop culture trailblazer. Social media practitioner.