HARDWARE
AMD and GlobalFoundries contract for the purchase of tiles once again updated: now $ 2.1 billion by 2025.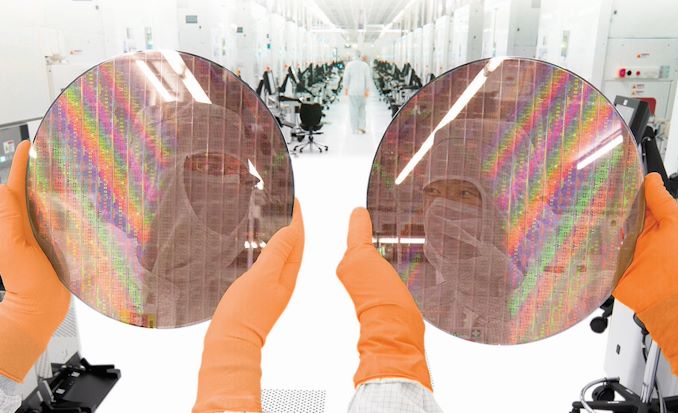 In a brief note released by AMD this afternoon as part of an 8-K application to the U.S. Securities and Exchange Commission, AMD reveals that the company has once again updated its tile deal with longtime fab partner (and AMD fab spin-off) GlobalFoundries. Under the terms of the latest tile delivery agreement, AMD and GlobalFoundries now commit to buying and delivering $ 2.1 billion in wafers from 2022 to 2025, adding another year and $ 500 million in wafers previous agreement.
As a quick refresh, AMD and GlobalFoundries last signed a new tile contract (WSA) back in May this year. That agreement further separated the two companies, ending all exclusivity agreements between them and allowing AMD to use any fab for any node as it deems appropriate. Nonetheless, AMD has decided to continue buying 12nm / 14nm tiles from GlobalFoundries, with the two companies signing a $ 1.6 billion contract to buy wafers for the period 2022-2024.
Officially classified as First Amendment to the Amended and Revised Seventh Amendment to the Waffle Supply Agreement, the latest amendment essentially adds another year of production to the WSA. The updated amendment is now valid until 2025, with AMD increasing its 12nm / 14nm wafer orders by $ 500 million to $ 2.1 billion. AMD and GlobalFoundries do not disclose specific annual targets for tile delivery, but the agreement essentially obliges GlobalFoundries to ship AMD tiles for just over $ 500 million each year for the next 4 years.
In addition to the annual consumption obligations, the updated agreement also updates the price of these wafers, as well as the requirements for advance payment for 2022/2023. As with a number of wafers, AMD does not reveal any additional details here.
AMD / GlobalFoundries Wafer Share Agreement History
Modified date
December 2021
May 2021
January 2019
Total order value
$ 2.1 billion
$ 1.6 billion
N / A
Start date
2022
2022
2019
Completion date
2025
2024
2024
GlobalFoundries exclusivity?
no
no
Partially
(12nm and larger)
It is also worth noting that, as with the previous agreement, these objectives are binding in both directions. GlobalFoundries is obliged to allocate the minimum amount of its capacity for orders from AMD, and AMD in turn is obliged to pay for these tiles, regardless of whether they use this capacity or not. Given the current drop in chips, AMD seems to be protecting its bets here and concluding an additional offer a few years in advance. Although given the renegotiation of the price, it would be interesting to see if AMD has to agree to higher overall prices to ensure a higher supply of wafers than GlobalFoundries.
After that, AMD is currently not revealing what it will use the extra capacity of the wafer for – although they clarified that it has nothing to do with the goal of acquiring Xilinx. AMD currently uses GlobalFoundries 12nm / 14nm processes for early-generation Ryzen products, as well as I / O matrices for AMD's current-generation Ryzen and EPYC CPUs. However, under normal circumstances, we would expect demand for these products to be reduced, especially by the 2024/2025 timeframe. 12nm / 14nm processes are already outdated and still getting older, so it is unclear whether this AMD is developing some backup plans to deal with chip reduction, or expect demand for current 12/14 products to continue to exist (e.g. they must produce their current long-term embedded products in greater numbers).
Without any further amendments to the WSA, the current contract between AMD and GlobalFoundries now expires on December 31st, 2025.
On December 23, 2021, Advanced Micro Devices, Inc. (The "Company") entered into the First Amendment (the "Amendment") to its amended and recast Seventh Amendment to the Tile Procurement Agreement (the "Seventh A&R Amendment") with GLOBALFOUNDRIES Inc. ("GF") to extend GF's capacity commitment and pricing wafer to the company.

The amendment modifies certain terms of the Tile Supply Agreement applicable to the purchase of tiles at the 12 nm and 14 nm technology nodes by the Company for the period beginning on 23 December 2021 and lasting until 31 December 2025. The GF has agreed to increase minimum annual capacity allocation to the Company for the years 2022 to 2025. Furthermore, the parties agreed on new prices and annual targets for the purchase of wafers for the years 2022 to 2025, and modified the advance payments agreed by the Company with the GF for these waffles in 2022 and 2023. The amendment does not affect any of previous exclusive obligations removed under the Seventh A&R Amendment. The company continues to have full flexibility to contract with any waffle iron foundry in respect of all products manufactured in any technology hub. The company currently estimates that it will purchase approximately 2.1 billion wafers in total from GF for the years 2022 to 2025 under the Amendment.
Friendly communicator. Music maven. Explorer. Pop culture trailblazer. Social media practitioner.