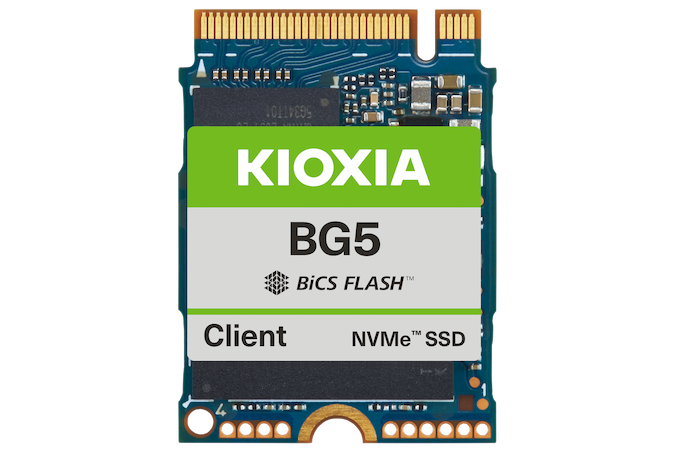 This morning, Kioxia is updating its BG series M.2 2230 SSDs for OEMs with the addition of a new BG5 family of drives. The latest in the company's line of postage stamp-sized SSDs, the BG5 series sees Kioxia reworking both NAND and the base controller to use newer technologies. As a result, the latest iteration of the drive gets overall higher performance thanks to a combination of support for PCIe 4.0 as well as a move to the latest Kioxia BiCS5 NAND. However, in an unexpected twist, the BG series is no longer a single-chip design; instead, the NAND and controller on BG5 are now separate packets.
Kioxia's BG series of SSDs has been built into pre-built systems for many years, due to its small size – typically M2, it has been a favorite of OEMs in recent years. 2230 or less – as well as their low price. In particular, DRAM-free drive design reduces overall component costs and has allowed Kioxia to easily stack NAND arrays on top of controllers, giving SSDs their small footprint. Also, the simple design and solid thermal tolerances of such a complex design mean that the energy consumption is quite low. The resulting drive performance is very initial and therefore rarely noteworthy, but for a disk that is not much larger than a postage stamp, it plays a small role.
After just over two years since BG4 was introduced, the main upgrade to BG5 is the addition of PCIe 4.0 support. While BG4 was a PCIe 3.0 x4 drive, BG5 is PCIe 4.0 x4, which at this point gives the drive more bus bandwidth than it could ever use. Truth be told, I was a bit surprised to see that the BG5 has switched to PCIe 4.0 given the limited impact of performance on the entry-level drive and strict power limitations, although there are some second-tier advantages over PCIe 4.0. In particular, any OEM that eventually assigns only two lanes to the drive (something that happens from time to time) will still get the equivalent of PCIe 3.0 x4 speeds from the drive, which in turn is still high enough to run the drive at near full performance. This highlights one of the big improvements offered by higher PCIe speeds: for components that do not require higher bandwidth, integrators can reduce the number of lanes instead.
Kioxia BG5 SSD specifications
Capacity
256 GB
512 GB
1 TB
Form Factor
M.2 2230 or M.2 2280
Interface
PCIe Gen4 x4, NVMe 1.4
NAND Flash
112L BiCS5 3D TLC
Sequential reading
3500 MB / s
Sequential Write
2900 MB / s
Random Read
500k IOPS
Random Write
450k IOPS
Speaking of performance, BG5 drives have been rated for higher bandwidth than their predecessors. Kioxia's official press release offers only one set of numbers, so it's almost certain for a 1TB configuration, but for that drive it's rated at 2900MB / sec write and 3500MB / s read – the latter just exceeding the limits of PCIe 3.0 x4. Random write and read were rated at 450K IOPS and 500K IOPS, respectively. As always, these numbers are against writing to the SLC cache, so continuous write bandwidth is ultimately reduced.
Since this is a DRAM-free disk, there is no significant caching / buffer layer in the package that could be discussed. Instead, like its predecessor, Kioxia relies on Host Memory Buffer (HMB) technology to improve the performance of its drive. The HMB is not used to cache user data, but instead is used to cache drive content mapping information to speed up access. In addition to the latest generation of this technology, Kioxia has also updated its controller to support NVMe 1.4.
Supported by the new PCIe 4.0 controller is the Kioxia BiCS5 generation TLC NAND, which is a 112L design. BiCS5 has been shipped for some time now, so it's a very familiar quantity, but it's finally time to get into the BG series of drives. BiCS5 was a relatively modest increase in density compared to BiCS4, so it's not too surprising that Kioxia retains the largest BG5 configuration at 1TB, which would mean stacking 8 of the 1Tbit matrices.
But perhaps the biggest change with the BG5 is not the specifications of the controller itself or the NAND, but the fact that the two parts are just the beginning. The main feature of the design of the BG5 series was a small package that was enabled by combining memory and controller in one package. But from the photo of the product supplied by Kioxia, we can clearly see that the NAND and the controller are separate packages. Kioxia did not mention this change, so we can only speculate whether it is due to simplicity in construction (no TSVs on the controller) or perhaps due to the heat dissipated by the PCIe 4.0 controller. But one way or another, it's a big change in the way a small drive is assembled.
As a result of this change, the form factor BGA M.2 1620 – which supplied a single-chip package in the soldering package – disappeared. Instead, the smallest form factor is now the removable version M.2 2230. The M.2 2230 form of the postage stamp size has long been the main line of the line, as it is what we have seen in Microsoft Surface products and other thin and light designs over the years. Since the form factor doesn't change here, using multiple packages shouldn't change things much for many OEMs. And for OEMs who need physically larger disks for compatibility reasons, Kioxia also formally offers a 2280 design. A simple two-chip solution on such a large PCB is inconspicuous, but would allow the BG5 to easily fit into systems designed to receive (and typically use) 2280 drives.
As these are OEM discs, pricing information is not available. The drives are currently being sampled for Kioxia customers, so expect to see them in commercial 2022 products.
Friendly communicator. Music maven. Explorer. Pop culture trailblazer. Social media practitioner.